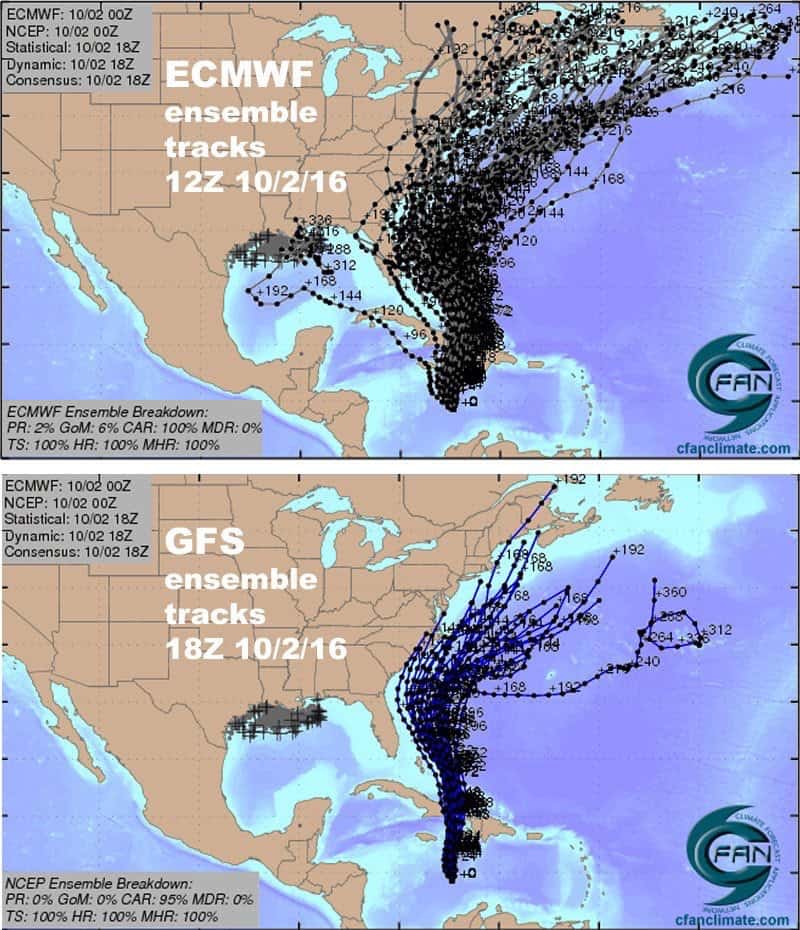 HURRICANE MATTHEW. As hurricane bears down on Haiti and Jamaica, fate still unknown for eastern US as models are all over the place.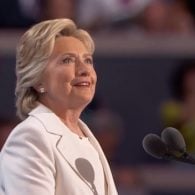 POLLS. Clinton up 6 points in new Politico/Morning Consult national poll: "Clinton leads Trump 42-36 in the four-way race for the White House. Gary Johnson garnered 9 percent, Jill Stein got 2 percent and 10 percent remain undecided. It's a dramatic bump for Clinton: Trump led by one point before the debate, and in a POLITICO/Morning Consult survey conducted immediately after the debate, Clinton led by four points."
WIKILEAKS. Rumored Wednesday announcement linked to Hillary Clinton canceled over "security concerns." "Roger Stone, a supporter of Donald Trump, tweeted Sunday morning that Clinton's would be "done" on Wednesday because of the Wikileaks announcement."
Due to security concerns at the Ecuadorian Embassy, Julian Assange's balcony announcement on Tues has been cancelled, per @wikileaks

— Jesse Rodriguez (@JesseRodriguez) September 30, 2016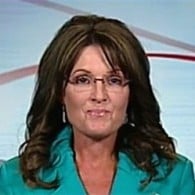 OBAMA ON TRUMP. I see a straight line from Sarah Palin: "I see a straight line from the announcement of Sarah Palin as the vice-presidential nominee to what we see today in Donald Trump, the emergence of the Freedom Caucus, the tea party, and the shift in the center of gravity for the Republican Party."
ANTI-LGBT BIAS. Obama urged to sign executive order on federal contractors: "Citing several barriers broken "largely to the Obama Administration's efforts," a NGLCC policy memo says "the next step to cementing this Administration's legacy as the most proequality in our nation's history is prohibiting discrimination against LGBT Business Enterprises (LGBTBEs) in federal procurement and subcontracting." NGLCC estimates that the nation has 1.4 million LGBT-owned businesses."
EMPIRE. Mariah Carey teams up with Jussie Smollett for the new track "Infamous".
Here's a sneak peek of my appearance on #Empire, airing on Wednesday and featuring #Infamous with @jussiesmollett! pic.twitter.com/MULCv3lY7S

— Mariah Carey (@MariahCarey) October 3, 2016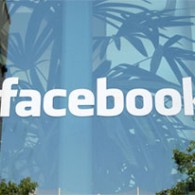 MARKETPLACE. Facebook comes for Craigslist with new feature: "Marketplace opens with photos of items that people near you have listed for sale. To find something specific, search at the top and filter your results by location, category or price. You can also browse what's available in a variety of categories such as Household, Electronics and Apparel. Use the built-in location tool to adjust the region you're looking in, or switch to a different city altogether."
BEAR ATTACK. Montana man attacked by Grizzly bear posts video to Facebook before driving himself to hospital (WARNING: graphic): "About three miles in, I stepped out into an open meadow and hollered again. A few more steps and I spotted a sow Grizzly bear with cubs on the trail at the upper end of the meadow. The sow saw me right away and they ran a short distance up the trail. But suddenly she turned and charged straight my way. I yelled a number of times so she knew I was human and would hopefully turn back. No such luck. Within a couple seconds, she was nearly on me. I gave her a full charge of bear spray at about 25 feet. Her momentum carried her right through the orange mist and on me."
FIRE ISLAND. Hurricane Sandy breach gives new life to Great South Bay: "It was almost instantaneous," Marshall Brown, co-founder of Save the Great South Bay, an environmental group, said of the effects of the breach. "The life just flowed into the bay — fish, seals and sea turtles. It's been an unqualified boon. It has shown us what the Great South Bay once was, and what it could be again."
PIXEL. Google phone leaked two days before launch? "Sorry Google, the party has been spoiled. UK store Carphone Warehouse posted its Pixel and Pixel XL product pages a bit prematurely, and though the company has taken them down fast, we managed to grab screenshots and a full set of specifications for both devices. "
Pretty massive Pixel and Pixel XL leaks dropped yesterday. – #pixel #pixelxl https://t.co/Q4e80mq3Wg pic.twitter.com/xP3SRlMnmT

— Droid Life (@droid_life) October 3, 2016
MONDAY MUSCLE. Sum.