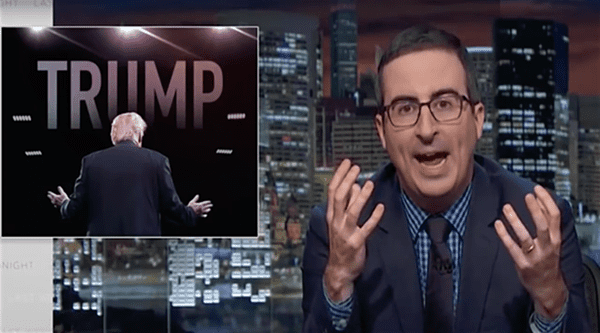 John Oliver took a look last night at Donald Trump's terrible week that has been described as the worst week for any presidential candidate in history.
On the heels of his disastrous debate performance on Monday night, Trump decided to double down on his attacks on former Miss Universe winner Alicia Machado during a phone interview on Fox & Friends. While none of the hosts brought up Machado, Trump felt it necessary to invoke her and again body-shame her.
Of the Fox & Friends' hosts' reactions to Trump bringing up Machado apropos of nothing, Oliver joked, "You can see them thinking, 'What are you doing?'  Why are you doing this?  Don't you know it's wrong to degrade former beauty pageant winners? We at Fox recently learned that due to the circumstances of Roger Ailes' departure from this very company.'"
Trump couldn't seem to let go of the Machado issue as the week progressed and he ultimately devolved into an "online meltdown in the early hours of Friday morning" in which he told people on Twitter to watch Machado's (nonexistent) sex tape.
"That is a candidate for president of the United States urging America to check out a sex tape," Oliver said. "Just do me a favor, look up into the sky right now. Higher, no higher still. Do you see that way up there? Way up, above the clouds? That's rock bottom. And we are currently way down here."
Oliver then showed archival footage of a 1997 CBS interview Trump did alongside Machado where he fat-shamed her to her face. Deliciously, Machado beat him back without missing a beat. So, as Oliver quipped, "Donald Trump really should have been prepared for Monday night because he's been losing televised debates to women for 20 years now."
Watch, below.
https://www.youtube.com/watch?v=QBrGOTnRIZM