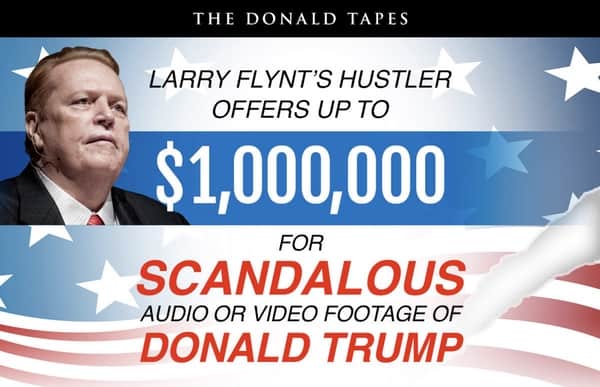 Larry Flynt's Hustler companies are offering "up to $1 million dollars for verifiable video footage or audio recordings for use prior to the November 8 election clearly showing Donald Trump engaging in illegal activity or acting in a sexually demeaning or derogatory manner," the porn mogul writes in a press release:
Mr. Flynt states, "I have always celebrated women. Women in all shapes and sizes. To treat a woman like Mr. Trump himself has is both disappointing and unbelievable, especially coming from someone who wants to be our President."
Mr. Flynt continues to be appalled by the hypocrisy of our elected officials who dictate how the American people should live their lives behind closed doors while themselves engaging in the variety of activities they publicly condemn. Mr. Trump claims that "nobody has more respect for women than me" despite tremendous amounts of evidence to the contrary. Mr. Flynt has made it his mission to call these hypocrites out and provide the public with as much information about their indiscretions as possible.
The last time Mr. Flynt made such an offer was in 2007 when he announced that he was willing to pay one million dollars for documented evidence of illicit sexual liaisons with a prominent member of public office. He also made similar offers in 1998 during the impeachment trial of President Bill Clinton over the Monica Lewinsky affair to root out hypocritical officials who had engaged in the same behavior they publicly condemned.
Flynt is also promoting 'The Donald', an adult film parody of the candidate: