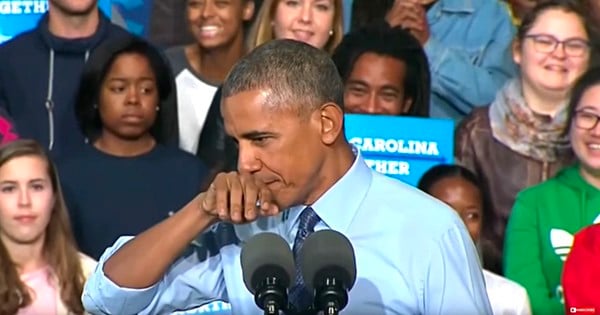 The Obama demon theory has been debunked. At a rally for Hillary Clinton in Greensboro, North Carolina on Tuesday, President Obama mocked Trump supporter and right-wing conspiracy theorist Alex Jones, who has claimed that he and Clinton are demons.
Said Obama:
"I was reading the other day. There's a guy on the radio who apparently said me and Hillary are demons, said we smell like sulfur. Ain't that something? Now, I mean, come on people!…And apparently there are people who believe that stuff. And they're listening to it constantly. You can't have leaders that are promoting that…"
Watch:
https://www.youtube.com/watch?v=ilayx2KWeL4
NBC News reports that Obama could be crucial for Clinton in North Carolina:
It's a state Obama narrowly won in 2008 and lost by two points in 2012. Polls show Clinton with an extremely slim lead here, and turnout, especially among the black population, will be critical.
"President Obama is an incredible ace in the hole for the Hillary Clinton campaign," said Frank Baumgartner, professor of political sciences at University of North Carolina at Chapel Hill.
And it's clear the president feels very comfortable in Greensboro. Despite being heckled by protesters three times, he deftly brought the attention back to him and the hugely friendly crowd shouted the protesters down.