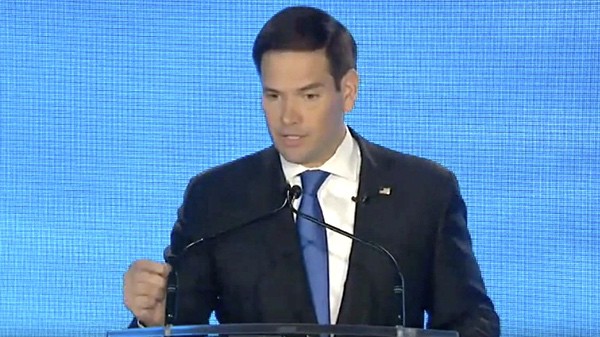 In a debate with his Democratic opponent Rep. Patrick Murphy last night, Senator Marco Rubio came out strongly against Donald Trump's repeated claims that the election is being rigged against him.
Said Rubio:
"This election is not being rigged. And let me explain to you why it's not being rigged in Florida and why I hope he stops saying that. Why he should stop saying that. We have 67 counties in this state, each of which conduct their own elections. I promise you there is not a 67-county conspiracy to rig this election. Second, the governor of the state of Florida is a Republican who appoints the people who run the division of elections. There is no evidence behind any of this, so this should not continue to be said. "
Added Rubio:
"And do I believe people should have confidence? Yes. And do I believe they should vote? Absolutely. This is a state that literally has millions of people who came here because they couldn't vote in the nation of their birth. It would be a tragedy if they gave up their vote here as well."
Murphy agreed with Rubio that the results of the election would be valid, but came after Rubio for "still standing by Donald Trump's side."
Rubio responded that he's the only candidate on the stage who tried to stand up to Donald Trump, accusing Murphy's family of making millions of dollars in partnership with Trump.
Rubio added.
Watch:
https://www.youtube.com/watch?v=dWPZCOsN2Jo