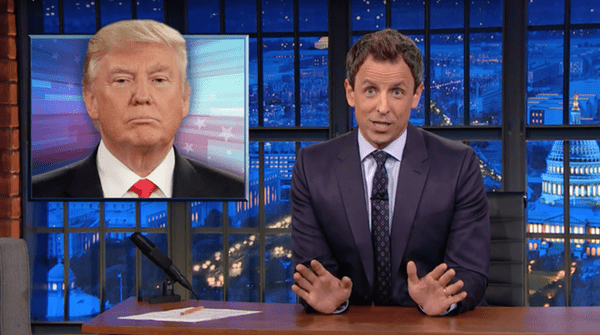 Seth Meyers took a closer look at Trump's intra-party war with GOP leaders and cautioned why you may not want to count him out–even though he looks DOA.
"Watching this election has been like watching the last 10 minutes of a slasher movie," Meyers quipped, referring to the fact that Trump has weathered several scandals that would have killed any mortal politician.
Meyers then weighed in on Trump's stalking Clinton during the second debate, saying, "it looked like he was waiting for his microwave burrito to be done."
Meyers also schooled Trump on claiming that his large rallies mean he's actually winning the election. "If all you needed to win was a big crowd of people our next president would be Ikea on a Saturday," Meyers joked.
As for the Trump campaign's call for Republicans to sign up as 'poll watchers' to be on the look out for voter fraud, Meyers said,
"You want Republicans to watch for something? They were caught completely off guard by a bright orange man in a bright red hat. No wonder the Republican party is the party of hunting accidents."
Watch, below.
https://www.youtube.com/watch?v=YRxDfIOTyi0