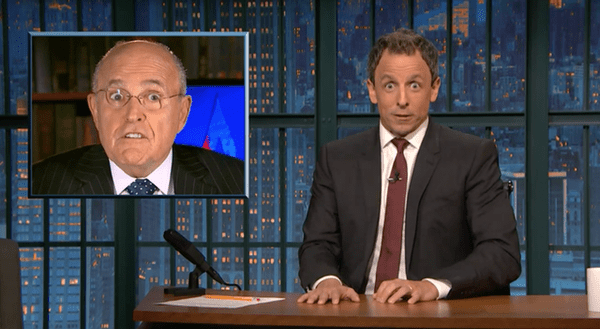 Seth Meyers took a closer look at Donald Trump's terrible week that won't seem to end, exploring all the crazy things the candidate has said and done since the first presidential debate.
Said Meyers, "Not only was Trump's debate performance last Monday disastrous, he spent an entire week talking about it. He's like a kid who wets the bed at a sleepover, and a week later is still going, 'I'm telling you, I spilled my juice box.'"
Among the crazier things Trump said last week was that he believes Hillary Clinton isn't loyal to her husband Bill, offering no proof of this accusation while speaking at a campaign rally.
But because Trump doesn't back down from any of the insane things he says, he had Rudy Giuliani and Chris Christie go on cable news to defend him, tasking Giuliani in particular with defending his claims about Hillary's alleged infidelity.
Joked Meyers, "Of course, Trump's own first marriage ended when he cheated on [Ivana] with his eventual second wife [Maples]. So you might think maybe this isn't the best argument for Trump to make—which is why the Trump team sent their best man, Rudy Giuliani, to go on TV and make it again."
Giuliani has also infamously had extramarital affairs.
Pointing to a clip of CNN's Jake Tapper grilling Giuliani over Trump's "indefensible" accusation, Meyers pointed out that the only response Giuliani could muster was, "Well that's your opinion."
Said Meyers, "Trump's campaign is such a cluster-fart they've been reduced to quoting the Dude."
Of both Giuliani and Christie's attempts to defend Trump, Meyers quipped, "Those two are like comic-book henchmen who are scared to death of their evil boss."
Watch, below.
https://www.youtube.com/watch?v=6D1U6MGODEY&feature=youtu.be