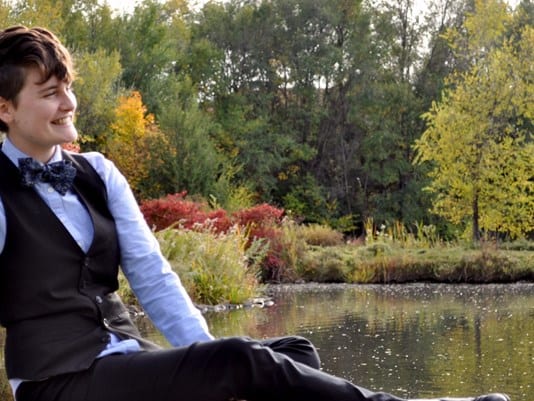 The body of an 18-year-old Boise State student was found on the outskirts of Idaho City on Saturday.
The student, legally known as Sierra Bush but who was also known by friends as Simon, was reported missing in late September.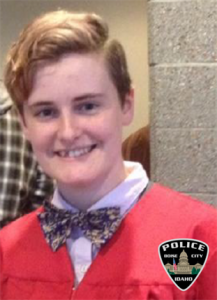 Bush's body was discovered by an as-yet unknown individual who called 911 to alert authorities. Police are still looking to find out the identity of that caller.
The cause of Bush's death is not yet known.
Sierra's body was found in an outdoor location just south of Idaho City. Boise Police say they will work with the Boise County Coroner's Office and the Boise County Sheriff's Department to determine how she died.
Police have not said whether they suspect foul play in her death, or whether Bush left Boise of her own volition. But Boise Police Sgt. Justin Kendall said the case is being investigated as suspicious.
"Sierra's disappearance has been suspicious from the beginning and this is a tragic discovery for everyone who knows her," he said in a statement. "Every missing person's case is initially investigated as being suspicious and Sierra was not the type to disappear without telling anyone. For weeks, our detectives have been following up on leads and our investigation is ongoing."
KTVB spoke to Sierra's longtime friend Samantha McGraw who says Sierra finds comfort in things that are familiar to her.
"I know that she would never run away and she didn't have a need to or drive to," McGraw tells KTVB.
She adds that the whole process of trying to find Sierra since she disappeared has been terrifying.
"It's been heartbreaking not knowing and it's even more heartbreaking now with us knowing where she is. And it's been very hard," McGraw said.
A statement from Simon's family reads:
"Sierra was a happy and cheerful young lady. She had a 4.0 GPA her entire senior year and maintained a cumulative GPA of 3.82 throughout high school.  She scored 1800 on the SAT. She sought out the Honors College at Boise State University and was accepted into the program. She applied for numerous scholarships and was awarded enough scholarship money, based on merit not financial need, that we only had to come up with approximately $500 for her tuition. She had joined the Creative Writing Club and the Beekeepers Club at BSU. Every indication was that she was thoroughly enjoying the start to her freshman year at BSU. When her mother last spoke to her Sierra was happy and in good spirits, there was not the slightest sign of any trouble whatsoever. Sierra was very talented individual and had so much to offer the world in her future years.
"We want to thank all of the people who helped look for Sierra and for the countless hours that they put into it.  We want to thank the law enforcement community and especially the Boise Police Department. There were many, many officers and detectives working very hard on Sierra's case, most of which occurs out of sight and cannot be known while the investigation is ongoing. We hope and pray that the law enforcement community will be able to charge, prosecute and successfully convict the perpetrator or perpetrators who are responsible for this crime and bring them to justice.
"Sincerely, Bart and Mary Helen Green"
Boise State President Bob Kustra issued a statement as well, saying,
"The Boise State campus community joins me in grieving the loss of one of our students today. Sierra Bush, known by many on campus as Simon, was an active and involved engineering and Honors College student who left an indelible mark on many students, faculty and staff. It is difficult to lose any member of the Boise State family and our hearts go out to the Bush family and friends who are also mourning this loss. We stand ready to support those in need of services as well as to aid investigators in any way possible as they search for answers to this tragedy."
The Boise State Gender Equity Facebook page posted this of Simon's death.
If you have any knowledge of Bush's disappearance or death please call Crime Stoppers at 343-COPS.
Watch a new report on Bush's death, below.
UPDATE:
Boise Weekly reports that Bush's friends often used 'she/her' pronouns in reference to Bush and that Bush may have used pronouns interchangeably:
Though her legal name is Sierra, most people knew the cheerful member of the Honors College as Simon. […]
"Sierra/Simon was going into aerospace engineering someday; she could do anything," Bush's friends said. "But all she really wanted was to run a bookstore. [Her dream] was so simple and beautiful."
Many who attended the Oct. 26 remembrance wore pins in the shape of miniature bow ties―Bush's signature fashion accessory―which had been crafted by the staff of Boise State's Gender Equity Center. Samantha McGraw, who said she was Bush's longtime best friend, was one of a half dozen people who also sported custom-made T-Shirts reading "Let's Get Weird" in their friend's honor.
"Sierra/Simon was all about embracing who you are," said McGraw, who added Bush slipped between gender identities and pronouns as easily as most of us choose an outfit for the day.
Some called her Sierra; others knew her as Simon. Several Boise State officials referred to Bush as Sierra Simon, using the pronouns "they" and "them" to describe her.
And as friends' memories rolled out during the vigil, the plural seemed appropriate for a deeply distinctive person with many sides — brave, funny, brilliant, energetic, accepting, pun-prone.
"They, them, she, her, he, him … It didn't matter," McGraw told the vigil crowd. "She was all about embracing who you really are.
"All of us coming into high school were very insecure in who we were and what we were doing," McGraw said earlier, describing her circle of friends as "misfits." "The fact that she was able to be her in all of her quirkiness and be completely fine with it was something that was very refreshing and encouraging to the rest of us."
[…]
McGraw said sometimes her friend felt feminine and other times masculine. Some people describe that as being gender fluid.
"It was just two different sides of the same person. Two different names of the same person," McGraw said. "It didn't matter what she was going by, she was still the same person all of us knew."
[Editor's note: the original version of this story pointed out confusion that existed surrounding Sierra / Simon's gender identity. Regrettably, this report inaccurately stated that Sierra / Simon was misgendered by family which was not the case. We sincerely apologize for this error and the story has been corrected.]