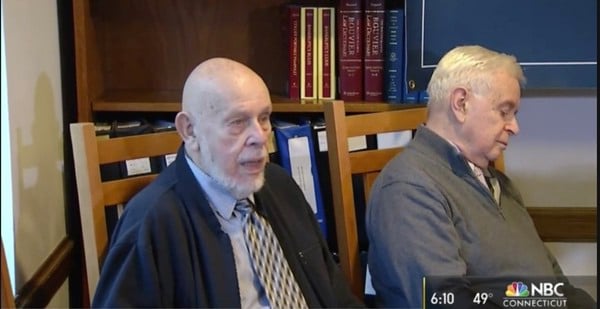 Hubert Edward Spires, a 91-year-old US Air Force veteran who was dishonorably discharged in 1948 for being gay, filed a federal lawsuit on Friday to have his military record corrected.
Spires' husband, who is a U.S. Army veteran, spoke on behalf of his partner of 58 years at a press conference at the Yale Law School because he is still recovering from pneumonia.
"Despite the discrimination I faced, I left the military with an honorable discharge," Spire's husband David Rosenberg said. "It is an injustice that the military has treated Ed and me so differently, despite our equal honorable service."
In 2011, Spires became eligible to apply for a discharge upgrade a year after the repeal of Don't Ask, Don't Tell, the Clinton-era policy that banned gays and lesbians from serving openly in the military. His application was denied twice, once in 2014 and again in 2016, Yale's VLSC said.
Spires nearly died of pneumonia a few weeks ago and is still recovering.
He'd like to have a military burial. Is that too much to ask?
Watch: