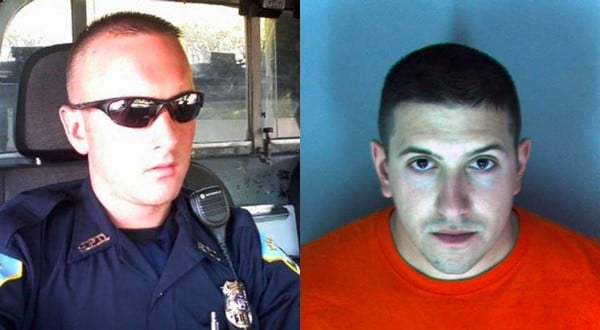 The Schenectady Police Department and the Albany Police Department are reportedly involved in an investigation of gay police officers for hosting "breeding" sex parties with teens and serving them alcohol.
"Breeding" is sex without a condom with the intention of ejaculating inside the other person.
The investigation was triggered by an attempt by Jonathan Moore, a Schenectady cop, and Anthony Aubin, his live-in boyfriend, to use a fraudulent check to purchase a $92,000 Jaguar coupe, the Times-Union reports:
But the arrest of Aubin, who has a lengthy criminal record and was recently on parole, has triggered a much broader, multi-agency police investigation into allegations that gay officers may have hosted or taken part in sex parties — called "breeding parties" — that allegedly were attended by teenagers who were not of legal age to drink alcohol or consent to having sex with adults.
The Albany Police Department's internal affairs unit is investigating information allegedly connecting one of its officers to the case, and other departments may also become involved in the broader investigation, according to a person briefed on the matter but not authorized to comment publicly.
Schenectady police officials could not be reached Tuesday evening and did not immediately return calls seeking comment.
Albany police Chief Brendan Cox said the investigation by the department is in the early stages.
Moore and Aubin, who is an ex-con, met 10 years ago, and Moore said Aubin helped him get out of debt issues by working with a gay porn company called Bear Films:
"I researched them and they are a legitimate company," Moore said in the statement. "Anthony accepted a contract with Bear Films and I ultimately took a job with them as well …"
But the deal with Bear Films fell apart, Moore said, and a Miami woman who was acting as their agent brokered a deal for the men with another adult film company, FratX, from Connecticut. In early October, the company was supposed to wire "salaries" of Aubin and Moore into a SEFCU bank account but the men's agent told them the transaction triggered a suspicious activity report and that the funds were being held up until the bank could verify the "funds were legitimate due to the amount," which was supposed to be roughly $400,000, according to Moore.
The money never came through, but the car shopping did – fraudulently.
Read the full story here.
(images via times union)