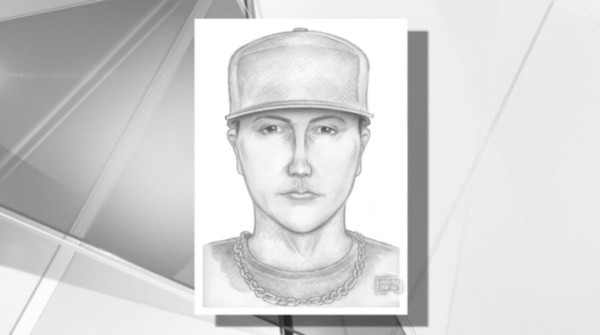 The NYPD is searching for the man in the sketch above, who allegedly shouted anti-gay hate slurs at two men at 14th Street and 8th Avenue in NYC's Chelsea neighborhood, before attacking them, NBC 4 reports:
The 28-year-old and 32-year-old victims were near Eighth Avenue and West 14th Street around 4:15 a.m. on Sunday when the man began yelling anti-gay slurs at them.  Police say the 20-something-year-old man continued to taunt the men with slurs and they eventually got into a fight.
The 32-year-old man suffered a fracture to his face and the 28-year-old man suffered an injury to his right hand.
The police are investigating the attack as a hate crime but have yet to declare it one.
In the second attack, two men were attacked with glass bottles in Times Square after rejecting the advances of two men, the NY Daily News reports:
Michael Bailey, 23, and Daquan Burns, 24, attacked the women as they walked along W. 44th St. and Broadway at about 5 a.m., sources said.
Though both the victims and suspects are black, the two men yelled racial slurs as well as anti-gay insults, police sources said.
"They are f—–g d—s," the men yelled, according to prosecutors.
The women, both 23, suffered cuts on their hands. Police arrested Bailey and Burns, charging both with felony assault as a hate crime, sources said.
Both attackers are being held on $80,000 bond or $40,000 cash bail.