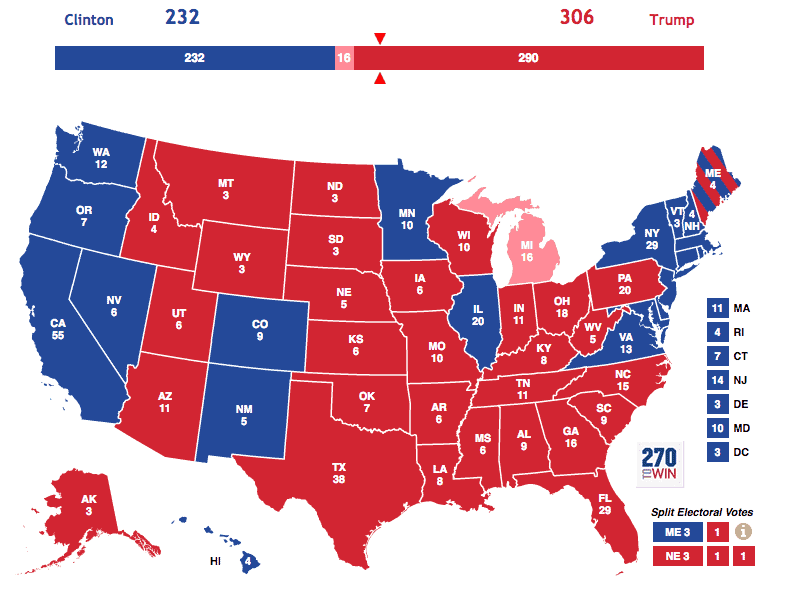 Six electors have vowed to switch their votes away from Donald Trump despite the popular vote results in their states which favored the Republican president-elect.
Many experts believe that this year could see a historic number of faithless electors in the Electoral College when the congregation gathers on December 19.
Though there currently exists no central organization trying to convince Trump electors to switch sides, the 6 faithless electors who have thus far come forward say they hope to sway others. They seem to believe that while it's unlikely they will be able to alter the final outcome of the election, they believe they stand a chance at undermining Americans' confidence in the electoral college as a democratic institution.
Even the most optimistic among the Democratic electors [trying to pull votes from Trump] acknowledges they're unlikely to persuade the necessary 37 Republican electors to reject Trump — the number they'd likely need to deny him the presidency and send the final decision to the House of Representatives. And even if they do, the Republican-run House might simply elect Trump anyway.
But the Democratic electors are convinced that even in defeat, their efforts would erode confidence in the Electoral College and fuel efforts to eliminate it, ending the body's 228-year run as the only official constitutional process for electing the president. With that goal in mind, the group is also contemplating encouraging Democratic electors to oppose Hillary Clinton and partner with Republicans in support of a consensus pick like Mitt Romney or John Kasich.
One elector, Michael Baca said in a statement that he wouldn't vote for Trump.
"The Founding Fathers created the Electoral College as the last line of defense, and I think we must do all that we can to ensure that we have a Reasonable Republican candidate who shares our American values," he said.
Added elector Bret Chiafalo, who along with Baca is part of a small group called Hamilton Electors, "All we're trying to do is honor what the Founding Fathers gave us."
[Map via attn]