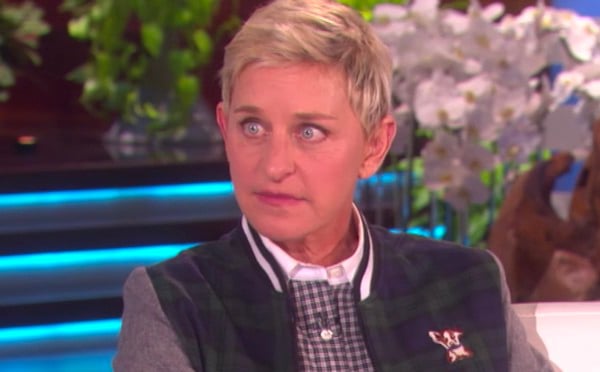 President Obama has named out comedienne, actress and talk show host Ellen DeGeneres as one of this year's recipients of the Presidential Medal of Freedom.
The highest civilian honor in the U.S., the medal is "presented to individuals who have made especially meritorious contributions to the security or national interests of the United States, to world peace, or to cultural or other significant public or private endeavors. "
Other recipients of the Medal of Freedom award will be Kareem Abdul-Jabar, Elouise Cobell, Robert De Niro, Richard Garwin, Bill and Melinda Gates, Frank Gehry, Margaret H. Hamilton, Tom Hanks, Grace Hopper, Michael Jordan, Maya Lin, Lorne Michaels, Newt Minow, Eduardo Padrón, Robert Redford, Diana Ross, Vin Scully, Bruce Springsteen, and Cicely Tyson.
The ceremony will take place on November 22 at the White House.
Said President Obama, "The Presidential Medal of Freedom is not just our nation's highest civilian honor – it's a tribute to the idea that all of us, no matter where we come from, have the opportunity to change this country for the better.  From scientists, philanthropists, and public servants to activists, athletes, and artists, these 21 individuals have helped push America forward, inspiring millions of people around the world along the way."
The White House's bio of Ellen reads,
Ellen DeGeneres is an award-winning comedian who has hosted her popular daytime talk show, The Ellen DeGeneres Show, since 2003 with her trademarked humor, humility, and optimism. In 2003 Ellen lent her voice to a forgetful but unforgettable little fish named Dory in Finding Nemo. She reprised her role again in 2016 with the hugely successful Finding Dory. Ellen also hosted the Academy Awards twice, in 2007 and 2014. In 1997, after coming out herself, DeGeneres made TV history when her character on Ellen revealed she was a lesbian. In her work and in her life, she has been a passionate advocate for equality and fairness.