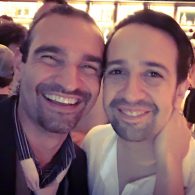 TELEVISION. Hamilton's Javier Muñoz to guest star on Quantico: "He plays Gabriel Carrera, vice consul at a consulate in [Washington] D.C.," showrunner Joshua Safran tells TVLine. "His husband, Robbie, played by Nick Westrate (TURN: Washington's Spies) also works at the consulate. They come into contact with some of our recruits, and soon wish they hadn't."
RE-SHOOTS. Zac Efron squeezes his buff body into a super-tight wetsuit to refilm Baywatch scenes.
OPINION. The real target of Emailgate is not Hillary Clinton, it's all women. 
WTF FBI. Dormant FBI Twitter account tweets about investigation into Clinton pardoning of Mark Rich that wrapped in 2005. Doesn't disclose any new info: "Vox appears to have been the first to report on this development, writing, 'Someone at the FBI thought it was a good time to remind the public of a 15-year-old Clinton scandal," and adding: 'The document dump doesn't include the investigators' conclusion that the Clintons hadn't broken any laws.'"
William J. Clinton Foundation: This initial release consists of material from the FBI's files related to the Will… https://t.co/Y4nz3aRSmG

— FBI Records Vault (@FBIRecordsVault) November 1, 2016
HEMINGWAY SYNDROME. Adele says she did her best writing while drunk: "I was completely off my face writing that album, and a drunk tongue is an honest one. I would drink two bottles of wine, and I would chain-smoke. Then I'd write the lyrics down and the next morning think, Fuck, that's quite good."
TERRIFYING. Heidi Klum multiplied for Halloween.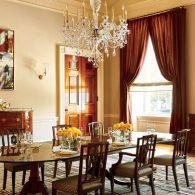 JUST A SIMPLE HOME FOR TWO FOUR. Take a peak inside the Obama's private White House quarters for the first time: ""Mrs. Obama often talks about bringing new voices into the national conversation, and that idea informed many of the decisions we made," he told the magazine. "We selected artists and designers who would never have appeared in the White House before."

ORLANDO. Gunman's wife speaks out — "I was unaware": "'I don't condone what he has done. I am very sorry for what has happened. He has hurt a lot of people.' Her husband's crime, Ms. Salman said, has left her shattered and afraid. She lives in fear of turning on the television and hearing Mr. Mateen's name. She often can't get out of bed and depends on family members to take care of her son. She has moved three times since the attack, hoping to avoid the news media, and asked that her current location not be disclosed."
ON THE STUMP. Alicia Machado campaigns with Hillary Clinton. 
IF CONGRESS WAS YOUR COWORKER. Chris Pine stars in latest Joss Whedon election video.
TOO HOT FOR TUESDAY. Ben T.