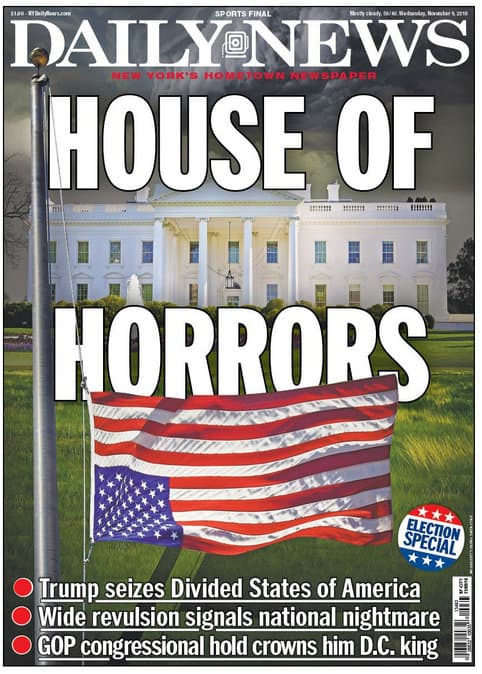 NEW YORK DAILY NEWS. Today's cover.
TRUMP IN 2012. "The electoral college is a disaster for a democracy."
https://twitter.com/realDonaldTrump/status/266038556504494082?ref_src=twsrc%5Etfw
DAVID DUKE. Klan leader offers his congratulations.
https://twitter.com/DrDavidDuke/status/796217486685458432
REELING. Obama takes gut punch to legacy: "Never been as wrong on anything on my life," tweeted Obama's 2008 campaign manager David Plouffe, who had been advising Clinton's campaign throughout. "Sobriety about what happened tonight is essential".
CONCESSION. Huma Abedin placed call to Trump on behalf of Clinton. "They had a very gracious exchange," [Kellyanne] Conway said today on "Good Morning America." "As I understand it, Secretary Clinton commended Donald Trump on a hard-fought race and congratulated him for his victory and he told Secretary Clinton she's very smart, very tough, had waged a tremendous campaign.
https://www.youtube.com/watch?v=3iiTrHPXUR0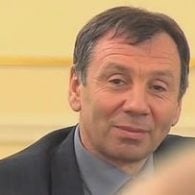 RUSSIA AND WIKILEAKS. "Maybe we helped a little" says top Russian official: "Sergei Markov, a pro-Kremlin political analyst, was jubilant at the result and said a Trump presidency would make it more likely the US would agree with Russia on Syria, where the two powers back different sides and Moscow has intervened decisively on behalf of the president, Bashar al-Assad. Markov also said it would mean less American backing for 'the terroristic junta in Ukraine'. He denied allegations of Russian interference in the election, but said 'maybe we helped a bit with WikiLeaks.'"
TRANSGENDER MURDERS. GLAAD calls for increased and accurate media coverage: "2016 has now overtaken 2015 as the deadliest year on record for transgender people in the United States. Last year, 21 transgender women were killed in the United States, nearly all of them transgender women of color. In the first eleven months of this year, the deaths of 24 transgender people have been reported. That's a rate of more than two transgender people killed every month. This number does not include transgender people whose deaths were not reported due to misgendering in police reports, news stories, and sometimes by the victim's family."
LOVE TRUMPS HATE. Lady Gaga protests outside Trump Tower.
❤️🇺🇸I want to live in a #CountryOfKindness where #LoveTrumpsHate pic.twitter.com/Eni145YgW1

— Lady Gaga (@ladygaga) November 9, 2016
In a room full of hope, we will be heard. @deray #blacklivesmatter Stand up for kindness, equality, and love. ❤️🇺🇸 Nothing will stop us. pic.twitter.com/CYLnVOseML

— Lady Gaga (@ladygaga) November 9, 2016
LIGHTBULB WORM. Every smart light in a city could be taken over in moments: "Researchers from Dalhousie University (Canada) and the Weizmann Institute of Science (Israel) have published a working paper detailing a proof-of-concept attack on smart lightbulbs that allows them to wirelessly take over the bulbs from up to 400m, write a new operating system to them, and then cause the infected bulbs to spread the attack to all the vulnerable bulbs in reach, until an entire city is infected."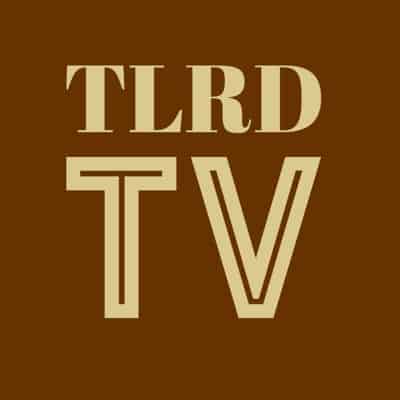 HUMP DAY HOTTIE. Proud Mexican Roberto Burciaga.
https://www.instagram.com/p/7ys4RJTg2j/?taken-by=robieht
https://www.instagram.com/p/6n-YVRTg2v/?taken-by=robieht
https://www.instagram.com/p/BLLpQeBBTfy/?taken-by=robieht
https://www.instagram.com/p/BMj6jrVhi_c/?taken-by=robieht