THIS IS STARTING TO FEEL MORE AND MORE LIKE 'V FOR VENDETTA.' A message from President-Elect Donald Trump on the state of his transition.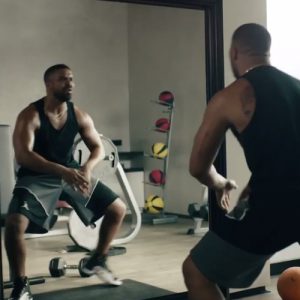 ADVERTISING. Drake works up a sweat to Taylor Swift (after adios-ing his shirtless personal trainer and swiping past Frank Ocean's Blonde).
MALE MODEL MONDAY. Matt Williams. 
LISTEN TO THIS MAN. And resist the temptation to make Melania Trump a gay icon: "She's the very definition of camp, someone who understands irony as little as she understands understatement. She is ridiculous in her sincerity, which makes her a perfect target for the mocking admiration that those raised on John Waters movies absolutely love. She even works the wicked stepmother vibe—but there's a danger in evoking cartoonish evil when her husband has laid claim to the real-life dark side."
LET THE NORMALIZATION BEGIN CONTINUE. Mainstream media make pilgrimage to Trump Tower: "NBC's Chuck Todd and Lester Holt; CNN's Wolf Blitzer and Erin Burnett; CBS's Norah O'Donnell, Charlie Rose, John Dickerson, and Gayle King; and ABC's George Stephanopoulos were some of the anchors who were seen entering Trump Tower shortly before 1 p.m."
WORD OF THE DAY. Kakistocracy: "'government by the least qualified or most unprincipled citizens.' The American Heritage Dictionary gives the origin of kakistocracy as from the Greek word, kakistos, worst, superlative of kakos, bad."
PRINCESS IN THE MAKING. Actress Meghan Markle, who is also Prince Harry's girlfriend, pens essay on gender equality: "With fame comes opportunity, but it also includes responsibility – to advocate and share, to focus less on glass slippers and more on pushing through glass ceilings. And, if I'm lucky enough, to inspire."
WHAT'S YOUR NUMBER. Take it with a grain of salt (bc John Oliver / 'studies') but allegedly more sexual partners = greater risk for prostate cancer. 
DEFECTION? Dem. Rep and Bernie Sanders supporter Tulsi Gabbard met with Trump about cabinet post: "According to the official, the 35-year-old Hawaii congresswoman is being looked as a candidate for secretary of state, secretary of defense or United Nations ambassador. If selected, Gabbard will be the first woman as well as the youngest pick for Trump's Cabinet."
NEWT OF THE OPERA. The former Speaker of the House is there, inside my mind. 
It's Newt (at Trump Tower) pic.twitter.com/KkqAkOpH1s

— Jonathan Lemire (@JonLemire) November 21, 2016
SHAKE, RATTLE AND ROLL. 7.3 earthquake strikes off Japanese coast near Fukushima: "The earthquake, which was felt in Tokyo, was centered off the coast of Fukushima prefecture at a depth of about 10 km (6 miles) and struck at 5:59 a.m. (2059 GMT) the agency said. USGS said that it was a shallow quake, at about 10 kilometers, which tended to cause more shaking damage and had greater potential to cause a tsunami."
MISTER MONDAY. Quincy Braxton, J.D.