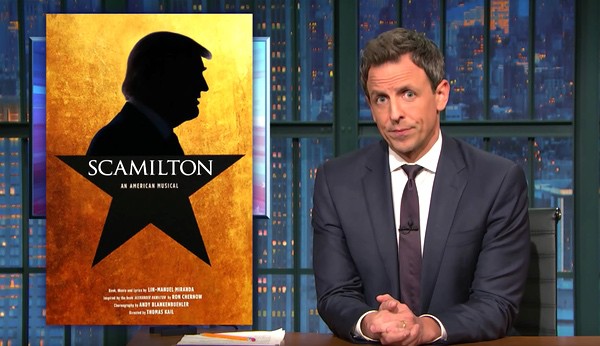 Seth Meyers last night took a closer look at the story that echoed throughout the media over the weekend: the booing of Mike Pence at Broadway's Hamilton.
Meyers reminded his audience:
"Mercilessly booing politicians of both parties is a time-honored tradition in this country no matter where you're from."
But the real story, he said, is that the Trump transition team wants us to look at it because it's a diversion from the ugly realities about the President-elect that are slipping by.
"As fun as it is to talk about this Hamilton feud, it's just a distraction from a far bigger story, a story that will one day be told in the hit Donald Trump musical, Scamilton."
Meyers then pointed out Trump's settlement of the $25 million Trump University fraud lawsuit.
"Congratulations, America. We did it! Our president will not have to go on trial before going to the White House! It feels good to win again!"
And the lack of separation between Trump's business empire and his transition.
"Now as you may recall, a common criticism of the Clintons was how they enriched themselves financially after leaving office. Well, Trump is proving again that he's the anti-Clinton by enriching himself before he takes office."
Ambassadors and international leaders are feeling pressured to stay at Trump properties because it would be insulting to the new leader of the world's greatest power if they stayed somewhere else.
But what would the media do if Hillary Clinton were behaving the same way?
Watch and weep:
https://www.youtube.com/watch?v=aZZNz6HdEno