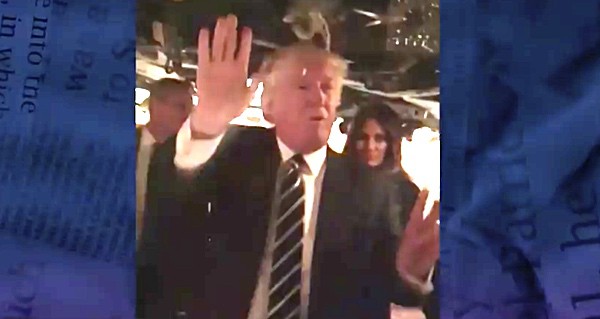 Donald Trump fired off a round of tweets early Wednesday morning responding to reports that his presidential transition is a mess.
https://twitter.com/realDonaldTrump/status/798721142525665280
Two officials who had been handling national security for the transition, former Representative Mike Rogers of Michigan and Matthew Freedman, a lobbyist who consults with corporations and foreign governments, were fired. Both were part of what officials described as a purge orchestrated by Jared Kushner, Mr. Trump's son-in-law and close adviser.
The dismissals followed the abrupt firing on Friday of Gov. Chris Christie of New Jersey, who was replaced as chief of the transition by Vice President-elect Mike Pence. Mr. Kushner, a transition official said, was systematically dismissing people like Mr. Rogers who had ties with Mr. Christie. As a federal prosecutor, Mr. Christie had sent Mr. Kushner's father to jail.
In just the last week, according to NBC News, Trump has seen the above-mentioned firings, the battle for appointments in his administration has been characterized as a 'knife fight', foreign leaders can't figure out how to reach Trump, who has no State Department materials in front of him when he talks to them, recruiting for rank-and-file posts within the administration is going miserably, Mike Pence has ordered the removal of all lobbyists from the team, Rand Paul is promising opposition to a John Bolton or Rudy Giuliani appointment, and John McCain has blasted Trump's clucking over improved relations with Russia.
The NYT reported on the attempts by world leaders to contact him:
Prominent American allies were in the meantime scrambling to figure out how and when to contact Mr. Trump. At times, they have been patched through to him in his luxury office tower with little warning, according to a Western diplomat who spoke on the condition of anonymity to detail private conversations.
President Abdel Fattah el-Sisi of Egypt was the first to reach Mr. Trump for such a call last Wednesday, followed by Prime Minister Benjamin Netanyahu of Israel not long afterward. But that was about 24 hours before Prime Minister Theresa May of Britain got through — a striking break from diplomatic practice given the close alliance between the United States and Britain.
Trump protested:
https://twitter.com/realDonaldTrump/status/798862483255652352
https://twitter.com/realDonaldTrump/status/798861300453539840
Ivanka Trump leaves the 21 Club in NYC after dinner with Pres-Elect Trump: pic.twitter.com/BjsB5lF6wU

— Frank Thorp V (@frankthorp) November 16, 2016
Meanwhile, Trump is busy ditching the press, according to Politico:
The president-elect ducked out of Trump Tower without the group of reporters who have been following his transition meetings since he was elected last week. He was spotted at the 21 Club on West 52nd Street in New York, where the block was shut down and only a small group of reporters was allowed to stand outside the restaurant.
Trump's spokesperson Hope Hicks confirmed he was at the former Prohibition-era speakeasy, but said she "wasn't aware of this movement" and she would never do anything to "leave the press in the dark."
Later reports said reporters who did not have a New York City press pass were no longer allowed to stand on the street outside the restaurant.
Inside the restaurant, Trump was telling diners "we'll get your taxes down—don't worry about it" and ignored questions about why the media hadn't been told of his activities.
https://twitter.com/BraddJaffy/status/798738692705816576