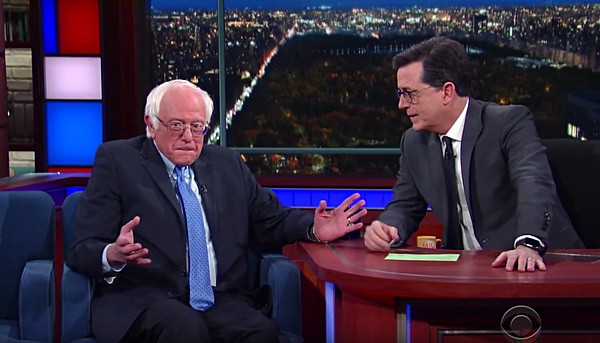 "It's been a tough week," said Bernie Sanders to Stephen Colbert on last night's The Late Show, revealing how he feels Trump won:
"Above and beyond the incredible bigotry of the Trump campaign, what he did was he tapped into a lot of pain and anxiety and angst that the American people are feeling which is very rarely reported in the media or understood by the punditry….At the end of the Trump campaign Trump was posing as a hero of the working class of America. Now I happen not to believe him. I hope I'm wrong."
Sanders also said that doesn't mean sentiment toward Trump is good:
"Hillary Clinton ended up with two million more votes than Donald Trump. So don't think of this as a massive success for Trump. He lost the popular vote. Second of all, he comes into the White House as the least popular candidate in the history of this country."
The former Democratic candidate also spoke about where we go next after Trump's election:
"The truth is, Democrats should not be losing to a candidate who insults so many people, who wants to give huge tax breaks to the top two tenths of 1 percent and who rejects climate change…How are we losing these elections? Something is fundamentally wrong and what I'm trying to do right now is bring about structural changes in the Democratic Party so that it becomes a grassroots party."
Watch:
Sanders has a new book out called Our Revolution and says he's still more optimistic about the nation than when he began his campaign.
Asked to provide an autopsy of the Democratic Party, Sanders said it must be transformed:
"The Democrats cannot continue to be run by what I call 'the liberal elite'…good meaning people…the party has got to transform itself into a party that opens the door, brings people into the party. Trump's views are a minority….Our job right now, and this is terribly important at this moment. What you do now is get involved heavily into the political process. When millions of people stand up and fight back we will not be denied."
He also offered a "worst case scenario" when asked by Colbert:
"The worst case, if not Trump himself, people around Trump are saying, 'hmm, let's see, we've got the House, the Senate, we've got the White House, we're going to have the Supreme Court, we're going to change the rules of the game so we don't lose anymore.' … They can make it worse by doing away with all campaign finance laws…and on top of that they will move forward more vigorously in voter suppression. Making it harder for poor people, for old people, for people of color to actually vote. Put up all kinds of restrictions. You do those things -unleash billionaires to buy elections – make it hard for millions of people to participate, they think they can control this government indefinitely."
Watch:
In related news, Senator Charles Schumer (D-NY) is under pressure to back Sanders (I-Vt.) as chairman of the Democratic Policy and Communications Center, the Hill reports:
Schumer, who was in charge of the Senate Democratic messaging operation this year, will replace Sen. Harry Reid (Nev.) as leader, and Illinois Sen. Dick Durbin will likely keep his job as whip.
Sanders's allies say he would be a good choice for the third-ranking position because he had phenomenal success mobilizing voters during the Democratic presidential primaries. That showed he knows how to put together a message that resonates, they argue.