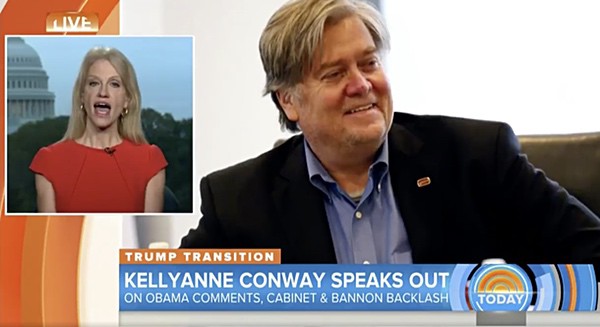 Trump campaign manager Kellyanne Conway is defending the choice of Breitbart executive chairman Stephen Bannon as White House chief strategist.
Bannon, a racist, homophobic, misogynist anti-Semite, admitted white nationalist, should be nowhere near the White House.
The NYT has published a bunch of of Bannon's quotes, like this one, in which he talks about "dykes" in reference to Ann Coulter, Michele Bachmann, and Sarah Palin:
"These women cut to the heart of the progressive narrative. That's why there are some unintended consequences of the women's liberation movement. That, in fact, the women that would lead this country would be pro-family, they would have husbands, they would love their children. They wouldn't be a bunch of dykes that came from the Seven Sisters schools up in New England. That drives the left insane, and that's why they hate these women."
LISTEN: Trump White House Chief Strategist Steve Bannon refers to women as "Dykes" in radio interview. pic.twitter.com/lnQWiakYCc

— Yashar Ali 🐘 یاشار (@yashar) November 13, 2016
Writes Shaun King in a piece discussing Bannon's history of domestic violence, his anti-Semitism, his abusive behavior toward employees, and his homophobic rhetoric:
If I had to create a list of despicable human beings, Bannon would likely be No. 1 on that list.
He is an immoral, unethical, crass, vulgar, sexist, abusive, white supremacist, white nationalist, anti-Semitic, xenophobic bigot. His list of offenses is vast and well-documented. Liberals and conservatives alike have all said that this appointment is genuinely dangerous.
Adds King:
The hiring of Bannon is not rhetorical or symbolic — it's dangerous and is a serious setback for our nation. I'm hard-pressed to find a single man as bigoted and extreme as him who has had a position in the White House in my lifetime. NBC offered a strong analysis of the situation, and rightly called Bannon out for his views, but they made one strategic error. They said Bannon and his dangerous ideology "will have a chance to influence policy." It will have far more than a chance. He is the Chief Policy Advisor and Strategist to President of the United States. Of course he will influence policy.
But Kellyanne Conway says "he's not as scary" as everyone is saying and calls the charges against him "unfair."
Said Conway to Savannah Guthrie:
"I promise you he's not as scary and he is as brilliant a tactician and our campaign general, frankly, on the field, as everyone is also saying…I know him well. I work hand-in-glove with him and I feel that these charges are very unfair. In terms of him being the public face of the campaign, I mean, that's a decision that we've made strategically. They put me out there all the time. I would love to share the stage with him and others, believe me."
Watch:
"He is as brilliant a tactician and our campaign general frankly on the field as everyone is also saying." @KellyannePolls on #SteveBannon pic.twitter.com/tvrSKQjmwA

— TODAY (@TODAYshow) November 15, 2016