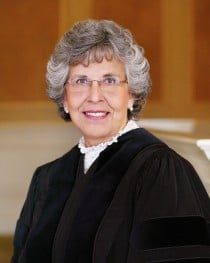 Arkansas's Supreme Court ruled on Thursday that same-sex parents do not have the right to be listed on their children's birth certificates if they are not the child's biological parent.
The court declared that equal protection is not violated by "acknowledging certain biological truths."
The state Supreme Court also issued a rare admonishment to Pulaski County Circuit Judge Tim Fox, saying he made "inappropriate remarks" in his ruling that struck down the birth certificate law. Fox had cited the U.S. Supreme Court's decision legalizing gay marriage in his ruling last year that said married same-sex couples should have both names listed on their children's birth certificates, just as heterosexual married couples do, without requiring a court order.
In the state Supreme Court's decision Thursday, the justices sided with the state attorney general's office, saying Arkansas has a vested interest in listing biological parents on birth certificates.
"What is before this court is a narrow issue of whether the birth-certificate statutes as written deny the appellees due process," Justice Josephine Linker Hart wrote in the court's majority opinion. "…In the situation involving the female spouse of a biological mother, the female spouse does not have the same biological nexus to the child that the biological mother or the biological father has. It does not violate equal protection to acknowledge basic biological truths."
Cheryl Maples, attorney for the three same-sex couples who filed the suit, said of the ruling,
"There's no requirement that DNA be given or that there be a biological relationship to a child to get on a birth certificate for a father, for the non-birth parent,. All you have to do is legitimize the child and you're entitled, if you're heterosexual. This is wrong."
Associate Justice Paul Danielson wrote in her dissent, "There can be no reasonable dispute that the inclusion of a parent's name on a child's birth certificate is a benefit associated with and flowing from marriage." She added that the U.S. Supreme Court's ruling on gay marriage "requires that this benefit be accorded to same-sex spouses and opposite-sex spouses with equal force."