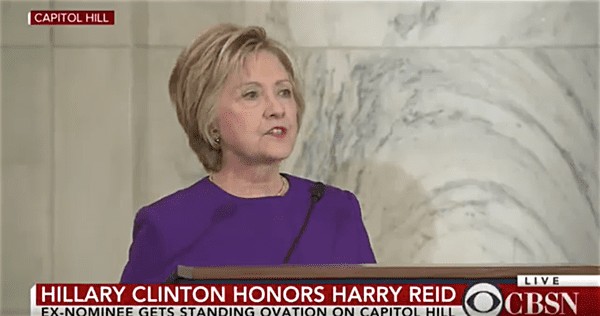 In a speech given at a farewell event for Senator Harry Reid in Washington, DC, Hillary Clinton made a rarer post-election appearance in which she underscored the danger fake news poses to our country.
"This is not exactly the speech at the Capitol I hoped to be giving after the election," Clinton said. She added, "After a few weeks of taking selfies in the woods, I thought it would be a good idea to come out."
https://twitter.com/SteveKopack/status/806973643557400576
Turning serious, she said,
"Let me just mention one threat in particular that should concern all Americans… the epidemic of malicious fake news and false propaganda that flooded social media over the past year. It's now clear that so-called 'fake news' can have real world consequences. This isn't about politics or partisanship. Lives are at risk. Lives of ordinary people just trying to go about their days, to do their jobs, contribute to their communities."
Clinton was seemingly referencing Pizzagate which recently led to a North Carolina man firing a gun in a DC pizza shop that right-wing conspiracy theorists claimed was being used as part of a child sex-ring run by Clinton and John Podesta.
Watch Clinton's remarks, below.
Hillary Clinton: "Let me just mention one threat in particular that should concern all Americans… the epidemic of malicious fake news" pic.twitter.com/f4ESmm4QZf

— CBS News (@CBSNews) December 8, 2016