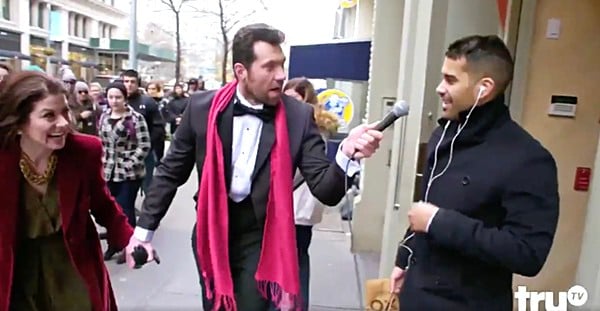 Screamer on the street Billy Eichner played a special holiday edition of one of his favorite games – "It's Debra Messing You Gays!!!" in which he throws Debra Messing in the face of unwitting strangers (whether they're gay or not) to gauge their reactions.
Debra Messing is a much more pleasing surprise than holiday fruitcake.
Watch:
IT'S DEBRA MESSING, YOU GAYS!!! HOLIDAY EDITION 2016!!! pic.twitter.com/Cho0nVe7CE

— billy eichner (@billyeichner) December 21, 2016
If you need some more Billy, check out this other new clip in which Eichner has Room actor Jacob Tremblay in tow.
https://www.youtube.com/watch?v=SBDwjEhPd98