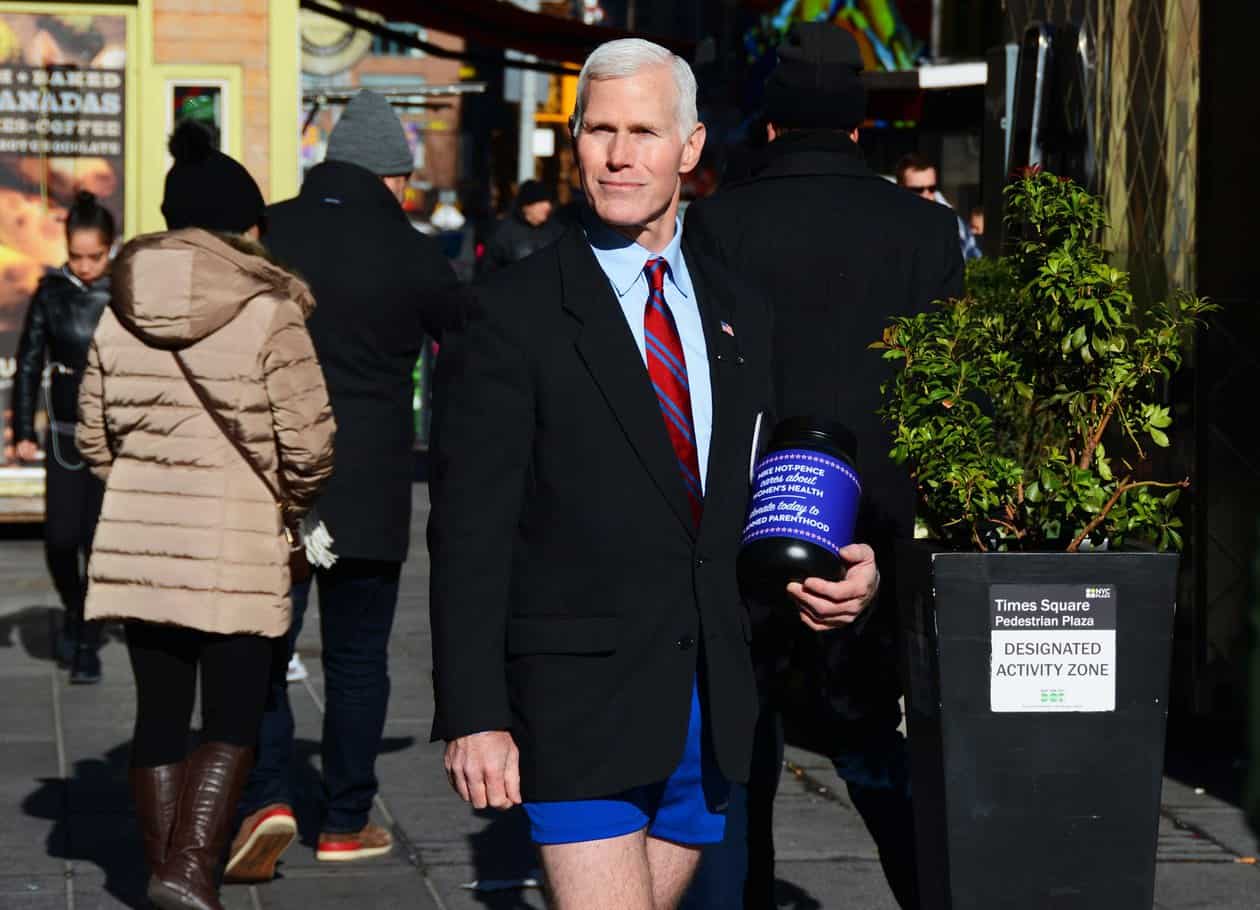 Glen Pannell, a gay man who happens to bear more than a striking resemblance to the vice president-elect, has begun putting his likeness to good use, and wandering the streets of New York City in short shorts as 'Mike Hot-Pence', collecting money for liberal causes.
In the guise of Trump's ultra-conservative running mate, Pannell has collected money for Planned Parenthood and the Natural Resources Defense Council and plans to collect for The Trevor Project, an LGBTQ youth crisis organization, this weekend, and the International Refugee Project sometime before Christmas.
Pannell first donned the outfit on Halloween after folks started noting his resemblance to Pence, he told Howard Sherman:
I did come up with name myself! A friend suggested I dress as Mike Pence for Halloween. But a straightforward Pence costume seemed a little lazy. I was also concerned that people might take it as an endorsement of the Trump-Pence ticket. So I decided to have some fun with it and dress as "Sexy Mike Pence." Once I decided on jacket and tie for the top half and short shorts for the bottom half, the "Hot-Pence" moniker popped into my head. And that's the origin story of Mike Hot-Pence…
Pannell told People magazine that because he's a gay man he was already familiar with the homophobic Indiana governor:
"He was on my radar before the election not because he looked like me but because of his record," he says. "I have family in Indiana and knew about the 'religious freedom' bill. As a gay man I stood up and took notice."
(Pence signed the controversial bill last year, and opponents immediately feared it would allow business owners to deny services to the LGBTQ community. Pence later signed a revised version of the law that explicitly banned the practice, even as the bill remained a source of controversy.)
If he ever meets the real Pence, Pannell knows just what he'd say.
"I'd tell him, 'If you could walk a mile in my short shorts, you would meet so many people who are afraid and unsure about the next four years because they see rising hate speech in the last four weeks. You say you love this country, you say you have great faith in the American people. If that's true, I'd say put your policy where your mouth is."
Mike Hot-Pence cares about the environment: collecting for @NRDC 12/4 in Union Square 11-12:45 and Times Square 1:15-3 #activismishot pic.twitter.com/4J02trHwPM

— Mike Hot-Pence (@MikeHotPence) December 4, 2016
Pannell also talked to Sherman about how Hot-Pence has been received:
…I can only control what I put out there, not how people receive it. I'm trying to provide as much transparency for the fundraising part of it so that people know it's legit. 100% of the money I collect goes to the charity. Some people might not care for it or may think I'm being opportunistic. Yes, I am being opportunistic! I'm using this opportunity to raise money for people that will really need it over the next couple of years. I do promise to heed Michelle Obama's words, "When they go low, we go high." And that was tested on my first fundraising outing. Even with the short shorts, Mike Hot-Pence is a classy guy at heart.
Read Sherman's full interview here. You can follow Mike Hot-Pence on Twitter here. Tell him Towleroad sent you and if you see him in NYC this weekend, throw some coins in his can.
And here's a video from People: