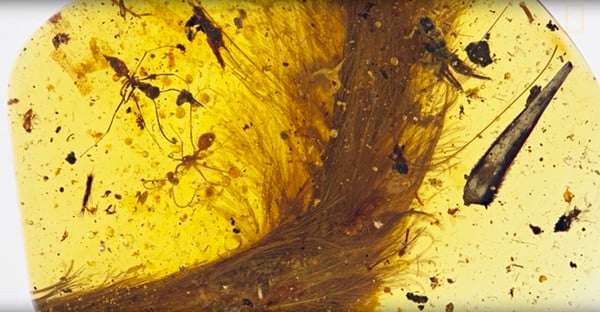 Scientists have found a perfectly preserved dinosaur tail in a piece of amber the size of a dried apricot — and the tail has feathers.
Writes National Geographic:
An extraordinarily well-preserved dinosaur tail, with a fluffy covering of feathers, lies trapped within a piece of amber. The animal it belonged to would have lived about 99 million years ago. Researchers from China and Canada identify it as a juvenile of some type of coelurosaur, a group that includes birdlike dinosaur species that walked on two legs. But because the bones of the tail are flexible and not fused as in a bird's tail, the specimen must be a terrestrial dinosaur rather than an actual bird. Lida Xing, first author of the study announcing the discovery, found the amber for sale in a northern Myanmar (Burma) market.
More here.