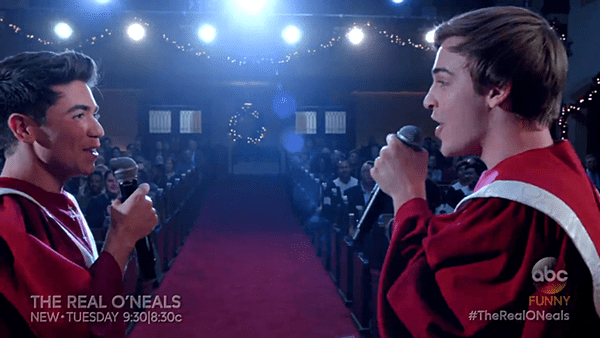 The Real O'Neals, the ABC sitcom loosely based on Dan Savage's life growing up gay in a Catholic family, has just debuted a musical clip from this week's episode.
Just in time for Christmas, the show mashes up the holiday classic "O Holy Night" with a slightly less conventional holiday tune–Sia and Kendrick Lamar's track "The Greatest." Okay, it's not a Christmas song but the pairing is solid nonetheless.
Kenny (Noah Galvin) begins, singing the Christmas carol softly and sweetly, then Brett (Scream's Sean Grandillo) enters with an energetic and enthused take on Kendrick Lamar's verse from the Sia hit. Soon, the rest of the choir joins in, building to a very big, spirited end.
Watch the full episode tonight at 9:30 p.m. E.T. on ABC.
And check out the clip, below.