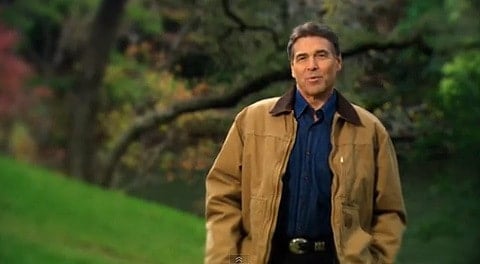 President-elect Donald Trump will pick former Texas Governor Rick Perry as his Secretary of Energy, according to media reports.
Perry, a rival of Trump's during the Republican presidential nominating campaign, met with Trump for about 90 minutes earlier in the day at Trump Tower in New York.
Perry dropped out of the race and endorsed Sen. Ted Cruz, a fellow Texan. Before he left the race, he denounced Trump's candidacy as "a cancer on conservatism" and criticized Trump, himself, as a "barking carnival act."
By May, however, as it became clearer that Trump was likely to win the Republican nomination, Perry had retreated from his criticism, saying that "I will be open to any way I can help" and that "I believe that Donald Trump should be our guy."
As you'll recall, Perry said in 2011 during a Republican debate, that he wanted to eliminate the Department of Energy – well, he didn't actually say it at the time…..because he couldn't remember.
Perry was discussing his jobs plan and his flat tax plan when he said: "And I will tell you, it is three agencies of government when I get there that are gone. Commerce, Education, and the… what's the third one there? Let's see."
Perry then paused and there was audible laughter in the room. Texas Rep. Ron Paul then chimed in "You need five," to which Perry responded, "Oh, five, OK. So Commerce, Education, and the…"
Watch the moment:
Reading Rick Perry, who infamously forgot the existence of the Dept. of Energy, is Trump's pick to lead it. You can't make this crap up.

— Ana Navarro-Cárdenas (@ananavarro) December 13, 2016