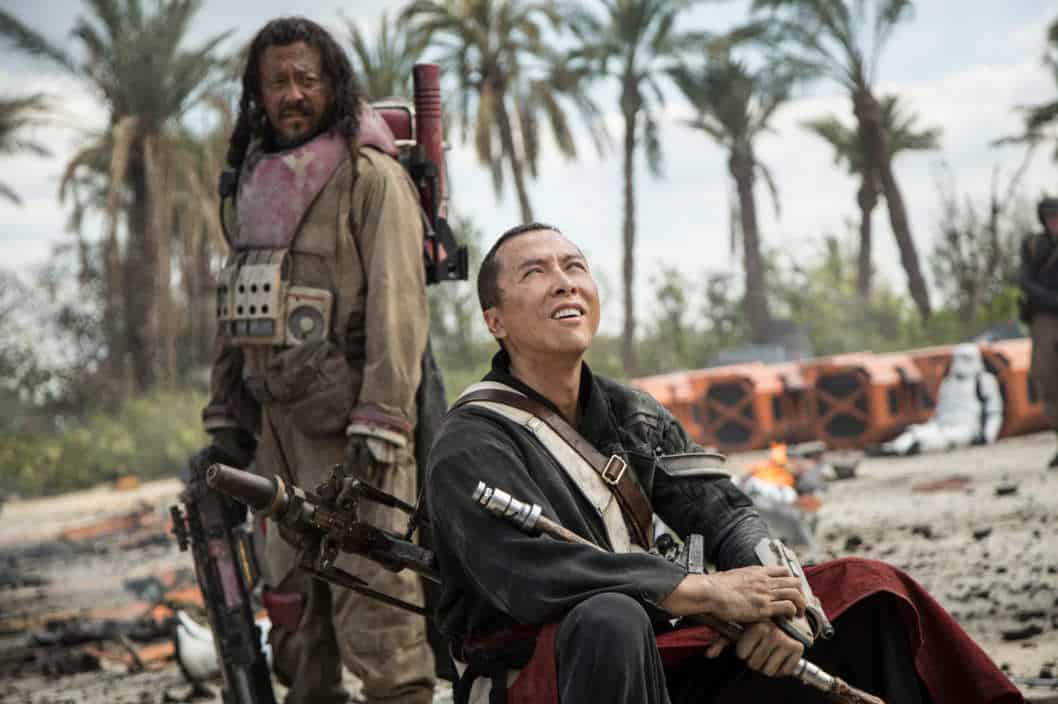 [SPOILERS]
The latest Star Wars prequel dominated the box office over the weekend, collecting $155 million in receipts. The haul makes it "the second largest December opening in history, [and] the second largest launch of the year" according to Fortune.
It's also making news for reasons concerning the movie's plot: some are speculating that the first two gay characters have just made their debut in the Star Wars universe: Jiang Wen and Donnie Yen as Jedha natives Baze Malbus and Chirrut Imwe
When Chirrut (Donnie Yen) and Baze (Jiang Wen) first meet up with our heroes on the planet Jedha, there isn't much time for backstory. Rebellious Jyn Erso (Felicity Jones) find herself drawn to Chirrut, who is blind but can single her out in a crowd and sense things about her that she hasn't divulged. Almost offhandedly, she's told that Chirrut is a Force-aligned warrior-monk operating in an era where the Force's reputation is on the wane; indeed, his protector Baze doesn't seem to share those ancient beliefs, though whenever Chirrut launches into a spiel about the Force, a bemused Baze treats him like a spouse telling the umpteenth iteration of a well-worn anecdote.
I enjoyed their old-married-couple vibe, though I didn't think much of it until a sweet little moment where Baze tells Chirrut that he doesn't need the Force if he's got him — something that a protective friend might say to his peer, of course, but also the kind of sentiment you'd end an interstellar Valentine's Day note with. The real eyebrow-raiser comes much later, when our brave heroes charge into a third-act battle on the planet Scarif that claims most of the cast as casualties. In order to transmit a message to the Rebel Alliance hovering way above the planet, a heavily guarded lever must be pulled, and Chirrut is the only one courageous enough to wade into enemy fire and make that self-sacrifice. Murmuring, "I am one with the Force, and the Force is with me," Chirrut makes it to the control panel and completes the task, though a subsequent explosion knocks almost all the life out of him.
He spends his final moments in Baze's lap, and as his friend stares down at him, devastated, Chirrut raises his hand as if to caress Baze's cheek. It's the simplest gesture, but it packs a potent, more-than-platonic current, and as Chirrut expires, it's clear that Baze does not want to live in a world without this man.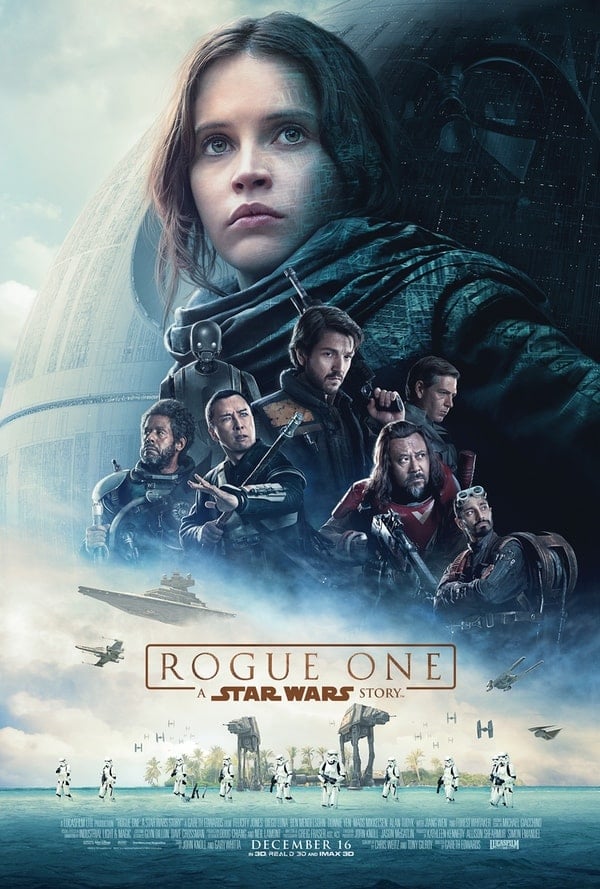 Adds Comicbook.com:
They have more to read into in the novelization (pun intended), though like the dialogue of the film, it gives a mixed message. When Chirrut is walking through the firefight to activate the master switch, he thinks of Baze as "his brother and ward." But later in that same scene, when Chirrut lies dying, his stronger connection to Baze is underlined again.
"He wondered for a moment how Baze had crossed the battlefield to reach him. But of course the Force had reunited them before the end," Alexander Freed writes in the novelization. Baze's response, too, fuels the relationship fire.
"Once again, the Empire had stolen meaning from Baze. He might have screamed if not for the man he held.
"The Force is with me," he repeated. "And I am with the Force."
"He advanced on the men and women who had taken his past, his home, his friend, his hope, his faith; but he did not stray far from Chirrut."
Director Gareth Edwards was asked about the relationship by Yahoo Movies, and chose to hold back:
"I don't mind people reading into [Chirrut and Baze's relationship]," Edwards told Yahoo Movies.
"I think that's all good. Who knows? You'd have to speak to them."
Ben Mendelsohn, who plays Death Star overseer Orson Krennic, says he's happy that people are able to interpret the film how they want.
"I think Chirrut and Baze are an enormously entertaining part of this film," Mendelsohn told us.
"I found them thoroughly enjoyable. Any [gay] subtext, I think, is certainly… people like to enjoy these films on many different levels, and if people are enjoying it on that level – that's it. That's what you pay your ten bucks for, as it were, so good for them."
Watch the interview with cast members and Edwards:
Image: Disney/Lucasfilm