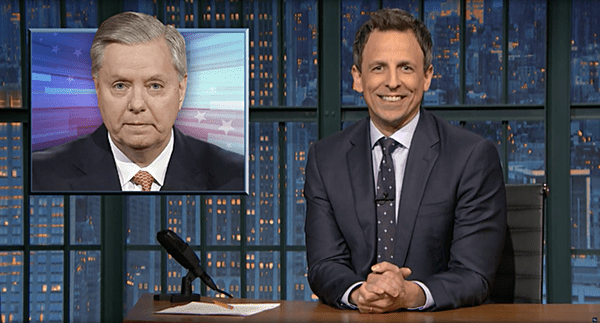 Seth Meyers took a closer look on Monday night into Donald Trump's take on the Russian hacking of the presidential election and in the process did an endlessly entertaining impression of Republican Senator Lindsey Graham.
Discussing reporting from The Washington Post that showed the Russian government hacked both the DNC and RNC but only leaked emails from the DNC in order to help Trump's chances of winning, Meyers quipped, "to be fair, what could possibly be in the Republican emails that was more embarrassing than what their candidate was saying out loud in public?" He added, "Donald trump is a hacked email come to life."
Turning to Trump's naming Exxon CEO Rex Tillerson as his pick for Secretary of State, Meyers highlighted consternation from South Carolina Senator Graham over Tillerson's close ties to Russia (he received a medal from Vladimir Putin in 2013).
Graham promised to question Tillerson over his connection to the Russian regime during his confirmation hearing, saying, "let's put it this way: If you received an award from the Kremlin, order of friendship, then we're gonna have some talkin'."
Imitating Graham's particular manner of speech, Meyers joked, "That's right, sassafras! You better park your biscuits in that chair, 'cuz we're gonna have some southern fried talkin'."
Watch, below.
https://www.youtube.com/watch?v=mSb-eHbNjrQ