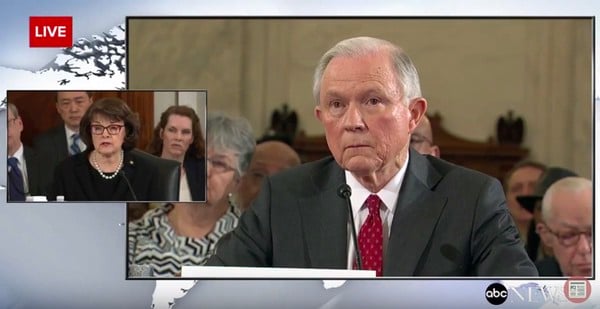 Jeff Sessions, President Trump's nominee for attorney general, is continuing to stand by his support for the heinous anti-gay First Amendment Defense Act (FADA).
Human Rights Watch notes that the bill "would prohibit any adverse action by the federal government against an individual or organization for discriminatory actions against legally married same-sex couples as long as they claim they are acting in accordance with their religious beliefs."
According to the ACLU, the First Amendment already protects the rights of clergy and churches to decide which unions to solemnize within their faith traditions.
However, since same-sex couples won the freedom to marry, opponents have argued that FADA is necessary to protect clergy or houses of worship from being forced to marry gay and lesbian couples.
In response to a written question from Senator Al Franken regarding his support for FADA, Sessions said that he rejects characterizations of the bill as being "deceptively named."
Sessions specifically cites concerns about a private university or college potentially losing tax-exempt status if it is opposed to same-sex marriage.
The ACLU continues:
Perhaps the most galling aspect of Sen. Sessions' response was how he turns the definition of discrimination on its head. He argues that FADA is necessary to "prohibit the federal government from taking discriminatory actions."
What Sen. Sessions calls "discriminatory actions" are in fact longstanding federal civil rights protections. FADA, for example, would significantly undermine the ability of federal agencies tasked with enforcing our nation's civil rights laws, such as the EEOC, to protect LGBT people and women from discrimination in education, employment, or housing.
The kind of sweeping, taxpayer-funded discrimination that FADA would sanction flies in the face of the Supreme Court's landmark marriage-equality ruling.
Sen. Sessions can try all he wants to mask what the true intent of FADA is, but the ACLU will continue to speak out in strong opposition to this legislative attack on the LGBT community.
On day one of Trump's administration, the ACLU filed a suit demanding that the president present documents related to actual or potential conflicts of interest.
You can read the ACLU's 7-point plan of action to take on the Trump administration here.
According to Politico, Sessions' confirmation vote for attorney general in the Senate Judiciary Committee has been postponed for a week:
The powerful panel officially agreed to delay the official committee vote on his nomination due to requests from Democrats, who said they wanted more time to review Sessions and the paperwork surrounding his nomination. The vote will now be Jan. 31, and his nomination will head to the Senate floor after that.
Watch Sessions explain his position on same-sex marriage during his confirmation hearing earlier this month.
https://www.youtube.com/watch?v=d7rv_XSiACs