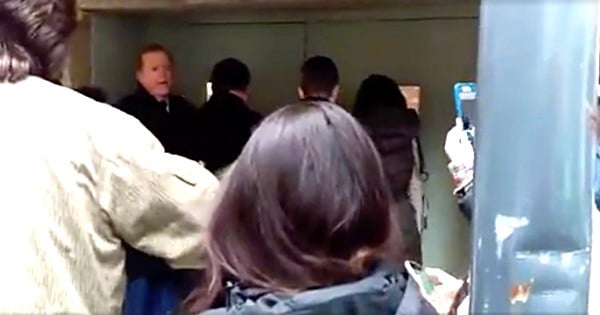 Former North Carolina Governor Pat McCrory, Lou Dobbs, and their small posse were confronted by protesters on a sidewalk outside the Capital Hilton in Washington DC. McCrory was then chased down an alley where, blocked by a locked door, he was cornered by the protesters, who yelled "shame" at him for several minutes.
"Shame on you, you anti-gay bigot. You're a bigot and an a**hole," the protesters yelled upon spotting McCrory on the sidewalk.
McCrory lost his reelection bid after the state lost millions of dollars due to company boycotts over the anti-LGBT HB2 bill McCrory signed in to law earlier in 2016.
Ricky Diaz, a McCrory spokesman, issued a comment after the incident:
"It's regrettable that up to a few dozen protesters decided to stalk and shout insults at the governor and police when we should all be listening to each other and coming together as a country in a respectful manner. Governor McCrory is thankful to Lou Dobbs for helping during this incident, and very thankful to the D.C. police for keeping everyone safe during a very successful inaugural weekend."
Watch:
https://www.facebook.com/ubasavaraj/videos/10211862175818279/