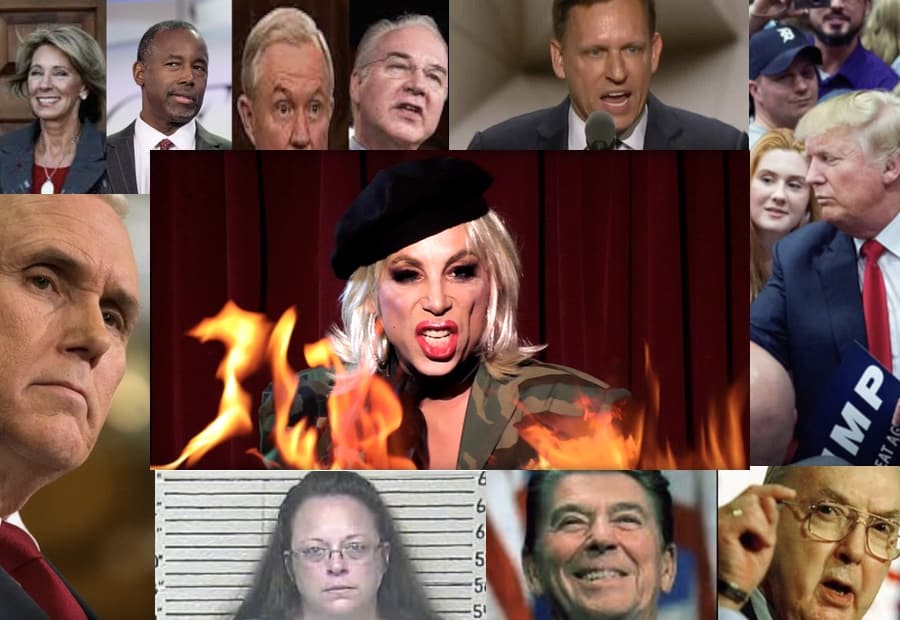 Sherry Vine, the drag performer known for her deliciously raunchy reboots of pop hits, has bigger things on her mind these days: Donald Trump and the culture wars he is bringing back to the nation.
She's back with a new clip using Billy Joel's classic anthem "We Didn't Start the Fire". While Joel's hit was meant to call out the world's malevolent events from the '50s to the late '80s, Vine has her eyes on a more modern era and its oppressors.
Said Vine:
"This is a very different kind of parody for me. While most of my parodies tend to be funny and naughty, there's an element of anger and cynicism in this latest. It reflects how many of us in the LGBTQ community feel today. We don't know what the future has in store for us. At any moment, the other shoe may drop and we're scared. Very scared."
The clip, which she's sharing first with Towleroad, was directed by Josh Rosenzweig and conceived by Rosenzweig,, Karl Beck, and Vine.
Watch: