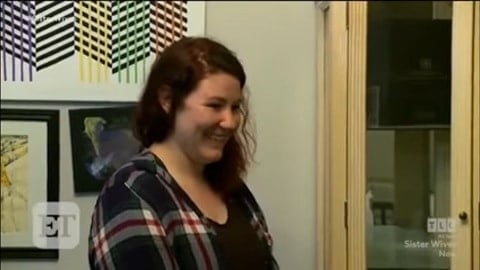 Sister Wives star Mariah Brown (above) came out to her parents on Sunday night's episode of the TLC reality show.
In the clip, Mariah gathers all five of her parents together to tell them that she identifies as a lesbian.
https://twitter.com/mariahlian/status/815761622077755393
One of 18 children in the polygamist marriage, Mariah tells her parents "I'm gay."
In a preview for the next episode, her birth parents Kody and Meri are less than pleased about the announcement.
US Weekly reports:
Meri tells Kody, "You were like smiling and happy and saying you were so happy for her. And I'm just … I don't …" Kody replies, "We're not happy Mariah's gay; we're happy Mariah knows herself."
However, in an interview last year sister wife Robyn revealed that although Mormon Fundamentalism does not approve of homosexuality the family believes that "all adults should be able to choose who they love and how they structure their family."
@mariahlian To say I'm happy for you, is an understatement. Thank you for being you, beautiful girl! You are an inspiration! ❤ #loveislove

— Audrey Kriss (@ohheyitsaudrey) January 2, 2017
Watch Mariah's coming out clip and the family's comments on same-sex marriage below.
https://www.youtube.com/watch?v=cauFuUCCN6o