Last night, Rachel Maddow took a look at the US military's ground forces in various countries in the Mideast, noting that two of Obama's last acts in office were to carry out stealth missions to take out terrorist groups, ISIS in Libya, and Al Qaeda in Syria.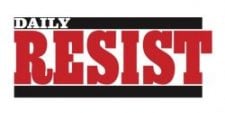 Maddow notes that although these were air strikes, there are plenty of US ground forces in these areas who are making these strikes possible.
Maddow then turned to Donald Trump and his continued suggestions that the U.S. should seize the oil in these mideast countries where we have a footprint, but it's a much more dangerous suggestion when it comes from a sitting president rather than a candidate.
Said Maddow:
"Because it's one thing to campaign for president by saying you 'wish' the U.S. military would have looted, would have pillaged, would have stolen resources from a country that we were occupying, it's one thing to run for office saying that you wish that U.S. forces had committed, incidentally,  that war crime, and pillaged the countries that we became responsible for as an occupying force once we toppled their government. It's one thing to say that as a candidate, but once you are saying that as the commander in chief of the U.S. military…once you are saying, as commander in chief, that the U.S. military should steal the oil from countries where our military is operating and that we might have a chance again to do that in the future, think about what that means for U.S. troops who are on the ground right now."
This is no longer a hypothetical scenario. "This is policy."
And why would foreign countries believe that the U.S. might be coming in simply for the purpose of stealing their oil?
Look at who the U.S. is about to confirm as the next Secretary of State: Exxon CEO Rex Tillerson.
Watch: