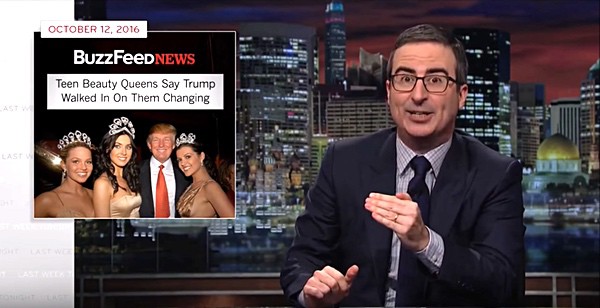 On Last Week Tonight, John Oliver took a look at Donald Trump's attempts to "make entire subsets of the American citizenry  concerned about their safety and well-being again", specifically his attacks on guidelines issued by President Obama to protect transgender kids at school.
Added Oliver: "This is gratuitous in so many ways. The guidelines had already been suspended last summer, and there's a Supreme Court case that may settle many of these issues—on top of which, all the guidelines recommended was that students be called by their preferred name and pronoun, be allowed to use the restrooms and locker rooms consistent with their gender identity, and, regardless of gender, be allowed to wear a tux to prom or a dress in yearbook photos, which is a good rule…If the government wants to address an actual problem with yearbooks, maybe ban quotes by Dave Matthews."
Oliver then pointed out that Trump himself has a history of barging into women's dressing rooms at his pageants and ogling and hitting on the participants.
"If we really want to protect women from predators, let's stop wasting our time with pointless, vindictive bathroom laws and instead launch a military operation to ban the president himself from women's rooms nationwide."
Watch:
https://www.youtube.com/watch?v=Nvd-zwTOgHY