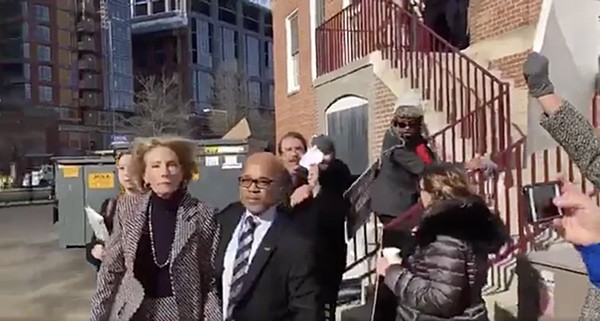 Deeply unqualified Education Secretary Betsy DeVos was physically blocked by protesters at the entrance to a DC school.
"She does not represent anything that they stand for," yelled one protester.
Another shouted: "She's giving money to senators and buying her way into the position. You should be so proud of yourself. Go back! Shame! Shame! Shame!"
Watch:
WATCH: Sec. Betsy DeVos physically blocked by protesters from entering DC school–turned away and left.
Video: @SweeneyABC pic.twitter.com/RAycuKEVgm

— 7News DC (@7NewsDC) February 10, 2017
DeVos was met by additional protest on Friday morning.
Handful of protesters now standing in front of SW DC middle school ahead of visit by Sec. Betsy DeVos pic.twitter.com/uzhuyeXEeE

— Sam Sweeney (@SweeneyABC) February 10, 2017
Protesters not allowing Betsy DeVos' advance team near SW DC school where she's expected to visit pic.twitter.com/dC6m2IGbCc

— Sam Sweeney (@SweeneyABC) February 10, 2017
Protesters clash with police and Sec. DeVos security detail ahead of school visit. @ABC7News pic.twitter.com/TKIzq8xwMt

— Sam Sweeney (@SweeneyABC) February 10, 2017
DeVos eventually got inside.
The demonstration was a sign that DeVos, who took office this week, remains a polarizing figure for many of the parents and teachers she seeks to serve.
DeVos was at the Jefferson Middle School Academy in Southwest Washington at about 10 a.m., according to two people who said they shook her hand inside the building. The event was closed to the media. It was her first visit to a public K-12 school since she was sworn in Tuesday.
Shortly after 10 a.m., several dozen members of the Washington Teachers Union, parents and other activists had gathered in front of the school.