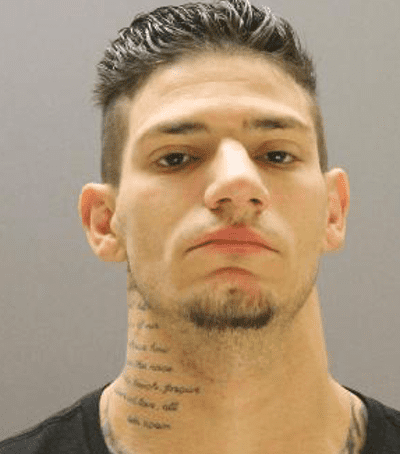 Gay-for-pay adult film actor Cameron Diggs (aka Timothy Harper) was arrested with three others on Thursday in a SWAT drug raid in the Dallas gayborhood of Oak Lawn, the Dallas News reports:
According to an arrest warrant affidavit, SWAT officers had been serving a warrant Thursday afternoon at an apartment in the 4300 block of Dickason Avenue.
Upon entering, SWAT members saw a large plastic bag with a crystal substance believed to be methamphetamine, which led to a search and the discovery of more than 1,600 grams of suspected meth, scales and packaging "consistent with narcotics trafficking."
After being read his rights, Harper admitted ordering and receiving the drugs, the affidavit says.
The SWAT raid alarmed the neighborhood with a series of large booms.
Diggs is tatted in white supremacist symbols, yet gay adult film studios still hired him according to Zachary Sire, the editor of the site Str8upGayPorn, writing at VICE.com.
Wrote Zachary Sire in VICE (click through for further links):
Upon the release of a scene for San Francisco–based gay porn studio NakedSword last April, commenters on gay porn blogs (including industry news blog Str8UpGayPorn, which I've been the editor of since 2013) excoriated Diggs for the tattoos—specifically the Iron Crosses on his chest and the SS Bolts on his hips, both of which are classified as hate symbols by the ADL. (Disclosure: I was employed by NakedSword as a blogger and screenwriter between 2010 and 2013.)
Despite the backlash, NakedSword (the company for whom Diggs filmed the majority of his scenes) continued to promote his work, as well as a live appearance in Chicago at an industry awards ceremony last May. As the controversy continued to grow, neither NakedSword nor Diggs responded to multiple requests for comment on the tattoos' significance, or lack thereof. It was entirely possible, of course, that Diggs wasn't a racist at all, and the tattoos were just a very unfortunate coincidence. The Iron Cross, for example, is often used in surfing and skateboard culture in a completely non-racist manner.
NakedSword asked Diggs for a statement last summer in which he confirmed the significance of the tattoos.
"I believe people should want to be proud of who they are and where they come from," an account using Diggs's name wrote on Str8UpGayPorn on July 14. "I feel like we are suppose [sic] to continue our race and our culture… When it comes to having kids, I prefer to stay inside my race. It's nothing hateful towards any race, it's just what I believe. Why is that so wrong? Does that make me a racist?"
The adult film site CockyBoys pulled a Diggs site shortly after his statement was released.
Sire's article for VICE is illuminating in its revelations about adult film studios and the personal beliefs of their performers:
But thanks to social media and industry blogs, those "preferences" are being exposed, shared, shamed, and retweeted to such an extent that studios can no longer pretend to be oblivious.
Bail has been set at $100,000.