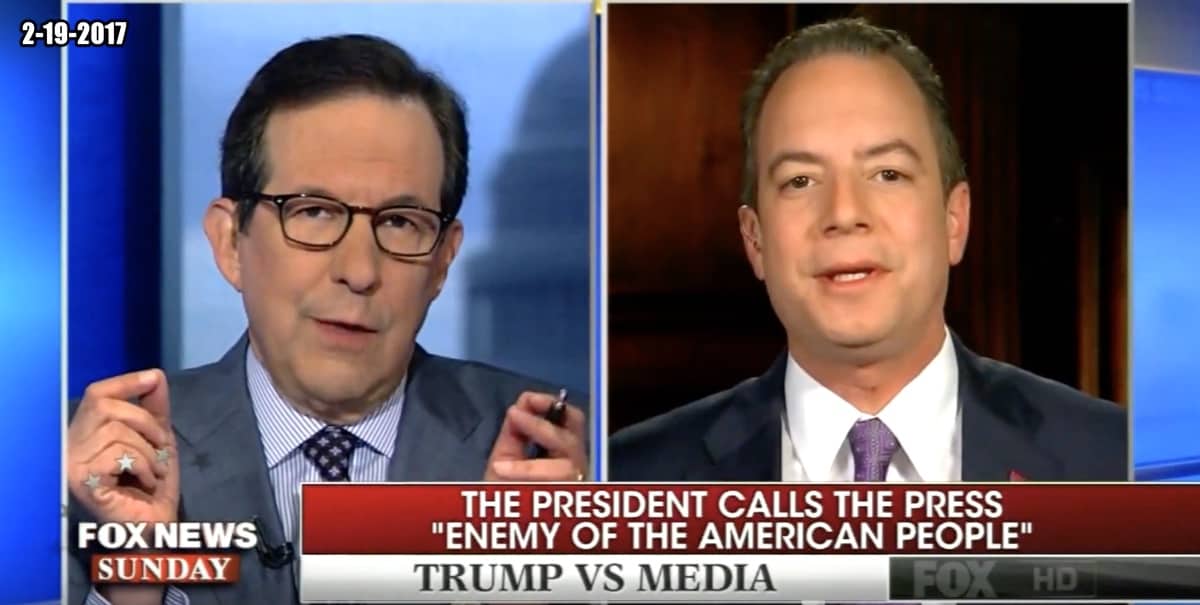 On FOX News Sunday, Chris Wallace grilled Reince Priebus about Donald Trump's aggression toward news media and a tweet that he made calling it "the enemy of the American people."
Trump's tweet:
https://twitter.com/realDonaldTrump/status/832708293516632065
Priebus tried to explain what Trump meant and made this disclosure:
"The NYT last week put out an article with no direct sources that said that the Trump campaign had constant contacts with Russian spies….I can assure you. I've been approved to say this. The top levels of the intelligence community have assured me that that story is not only inaccurate but it's grossly overstated and it was wrong and there's nothing to it."
Asked Wallace:
"You say that the intelligence community says that there were no contacts between anyone in the Trump campaign any associate of mr trump and anybody involved as a Russian agent as to the campaign and collusion in the campaign with Russia, is that what you're saying?"
Replied Priebus:
"That story in the New York Times is complete garbage, and quite frankly they used different words than that, okay? … When I say top-level people, I mean top-level people."
Priebus acknowledged that the media had covered all of Trump's acts but whined that it had focused too much on the Russia-Flynn story. And that's when it started getting very contentious:
"You don't get to tell us what to do, Reince. You don't get to tell us what to do any more than Barack Obama did. Barack Obama whined about FOX News all the time but I gotta say he never said we were an enemy of the people."
Snipped Priebus:
"Let me tell you something he said a lot of things about FOX News Chris. I think you ought to go check the tape. He blamed you for a lot of things. I'm surprised that as someone from FOX that you'd forget all the shots that he took at FOX News."
Replied Wallace:
"He took the shots and we didn't like them. And frankly we don't like this either. But he never went as far as President Trump has, and that's what's concerning because it seems like he crosses a line when he says that we're an enemy of the people. That's concerning."
Wallace then grilled Priebus on Trump's defense of Michael Flynn, and the 14-days during which Pence was being deceived by Flynn.
Watch: