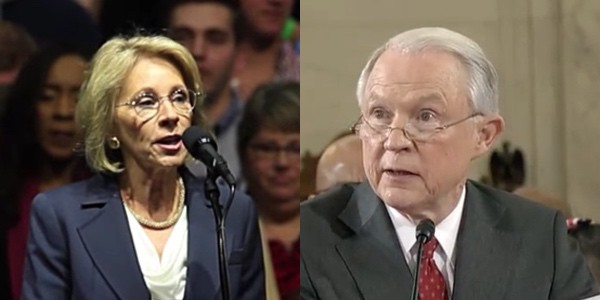 A forthcoming executive order that will rescind President Obama's directive to schools protecting transgender students from discrimination has sparked some heated infighting between Attorney General Jeff Sessions and Education Secretary Betsy DeVos, according to the New York Times.
DeVos initially resisted approving the order but had little choice once Trump signed on, according to the paper:
Mr. Sessions, who strongly opposes expanding gay, lesbian and transgender rights, fought Ms. DeVos on the issue and pressed her to relent because he could not go forward without her consent. The order must come from the Justice and Education Departments.
Mr. Trump sided with his attorney general, these Republicans said. And Ms. DeVos, faced with the choice of resigning or defying the president, has agreed to go along. The Justice Department declined to comment on Wednesday.
Though an official order from the administration was expected to be released as early as Wednesday, Mr. Sessions and Ms. DeVos were still disputing the final language.
The NYT obtained a draft of the order and says that confusion in the schools over how to implement Obama's directive is cited as the reason for telling them to drop it.
Also:
The draft also contains language stating that schools must protect transgender students from bullying, a provision Ms. DeVos asked be included, one person with direct knowledge of the process said. "Schools must ensure that transgender students, like all students, are able to learn in a safe environment," the letter says.
The EO could be coming as soon as today.