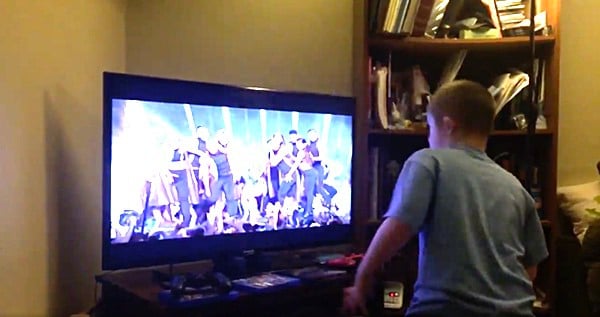 Lady Gaga's Super Bowl performance was amazing in a lot of ways, but the inclusion of "Born This Way", which speaks to all kinds of marginalized people, was incredibly powerful.
The anthem speaks to everyone, as illustrated by this touching video shared by David M. Perry on Twitter, featuring his son who has Down syndrome.
Wrote Perry: "He was born his way too."
Perry later commented: "My son dances like someone's watching. In fact he checks every so often and gets mad if you're not watching."
He was born his way too. #SuperBowl pic.twitter.com/3rZsOy1rIA

— David M. Perry (@Lollardfish) February 6, 2017
And Twitter is applauding….
On a related note, Teen Vogue points out this:
Clearly, many people watching didn't realize that the song "Born This Way" is designed for the LGBTQ community. If you've been to a Pride March in the past four years, you'd know a thing or two about dancing to "Born This Way" while you're surrounded by a ton of glitter, bare skin, and glorious, rainbow solidarity. Let's just be clear here, though: Performing a song that's so blatantly gay in front of an audience that includes Mike Pence, one of the most anti-LGBTQ politicians today, is absolutely political — especially when it contains lyrics like "No matter gay, straight, or bi, lesbian, transgender life." (PS: According to USA Today, that'd "likely" be the first time the word "transgender" was said onstage at a Super Bowl.)
Furthermore, as our friends at The Hive pointed out, the Woody Guthrie song "This Land Is Your Land" is actually inherently activistic. Gaga omitted certain lyrics from the piece, which The Hive printed for your convenience. Here's a sampling:
As I went walking I saw a sign there / And on the sign it said "No Trespassing." / But on the other side it didn't say nothing, / That side was made for you and me.

Nobody living can ever stop me, / As I go walking that freedom highway; / Nobody living can ever make me turn back / This land was made for you and me.
"This land was made for you and me," she sang, in the same weekend where Donald Trump's executive order — one that was designed to fulfill his campaign promise of banning Muslims from entering our country — was essentially (if temporarily) rendered moot by a judge in Washington state.