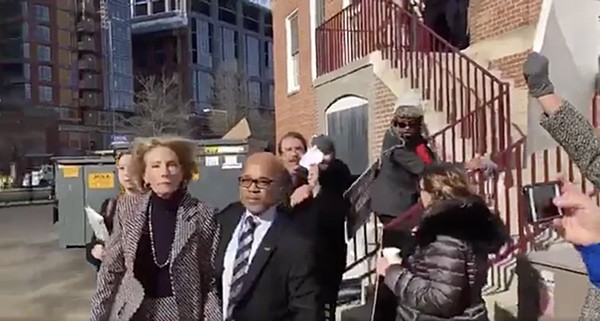 A gay refugee from Afghanistan has been arrested for assault during a February 10 protest against Secretary of Education Betsy DeVos in Washington, D.C.
DeVos was physically blocked by protesters at the entrance to Jefferson Middle School Academy.
32-year-old Bilal A. Askaryar, who fled Afghanistan in 1990 fearing persecution and death from the Taliban, was charged with assaulting a police officer and failing to obey a lawful command of an officer.
The Washington Blade reports:
"[T]he defendant (Askaryar) along with several other protesters blocked the driveway to the parking lot of the school and blocked the path of Secretary of Education B. Devos' vehicle," a police affidavit in support of Askaryar's arrest says.
"The defendant (Askaryar) and the other protesters got violent and started pushing and shoving the police officers on the scene," the affidavit says. It says that Askaryar was caught on video pushing a police sergeant and a police officer.
Court records show Askaryar is scheduled to appear in D.C. Superior Court for a misdemeanor status hearing on March 17. He has pleaded not guilty to the charges.
Askaryar has since become a U.S. citizen and has received a master's of arts degree from American University's School of International Service. In a column in the Blade last month, he criticized the controversial executive order seeking to temporarily ban refugees from seven mostly Muslim countries.
Protesters clash with police and Sec. DeVos security detail ahead of school visit. @ABC7News pic.twitter.com/TKIzq8xwMt

— Sam Sweeney (@SweeneyABC) February 10, 2017