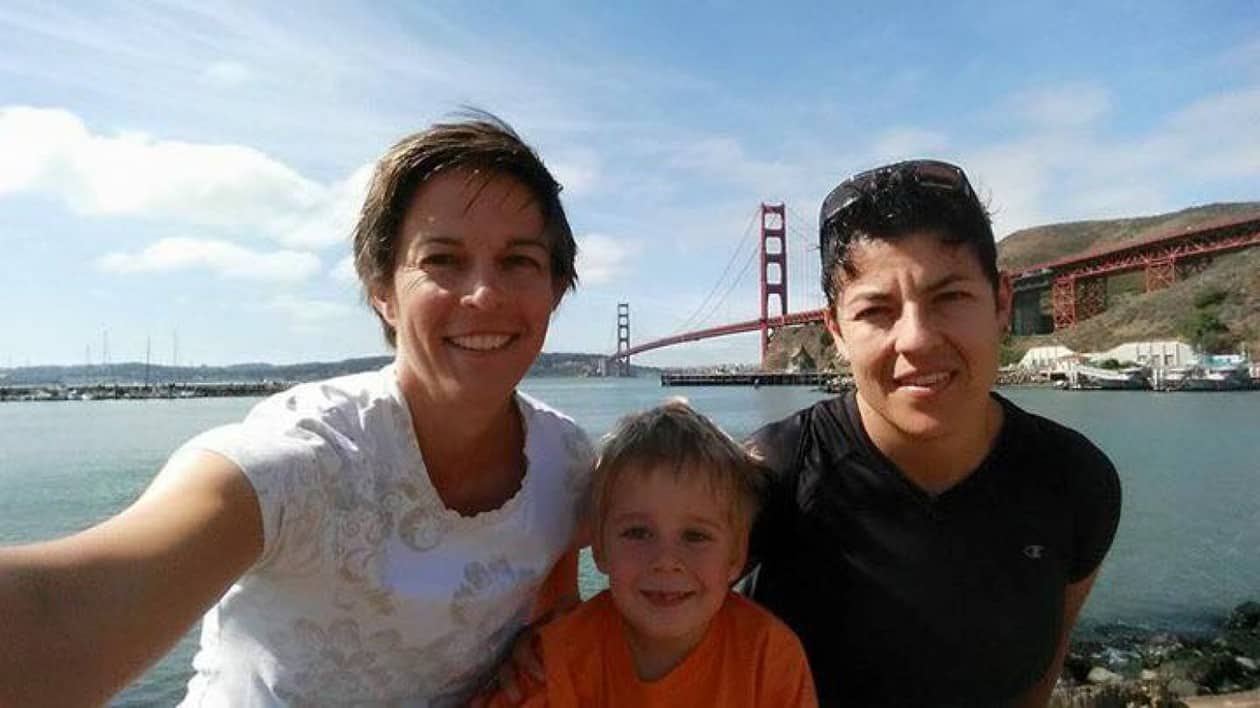 U.S. Air Force Major Adrianna Vorderbruggen (right) was among six service members killed this week in Afghanistan when a man on a motorbike with a suicide vest blew it up near their vehicle, ABC7 News reports:
The Taliban is claiming responsibility.
It's believed Vorderbruggen is the first openly gay active duty servicewoman to die in combat. Vorderbruggen and her wife, Heather Lamb, had a 4-year-old son. Lamb and her son moved in with her mother in San Rafael while Vorderbruggen was deployed. Lamb's mother wouldn't speak on camera but the American Legion Post 448 in San Francisco recognized Vorderbruggen's service.
The troops were conducting a patrol near Bagram, the Washington Post adds.
Writes the Daily Beast:
Vorderbruggen and her wife, Heather Lamb, were married in June 2012, less than two years after the repeal [of DADT]. They publicly celebrated their marriage.
Tracey Hepner first met Vorderbruggen while they worked behind the scenes as partners of those who could not openly serve. They traveled together to the White House in 2011, one year after the repeal, to talk about how the military was adapting to change. Hepner is married to the first openly gay female general, and they were leading the charge for change.
"Heather and Adrianna were one of the first partners of the military partner coalition. And we are just devastated," Hepner told The Daily Beast. Hepner said Vorderbruggen understood that she was challenging conventional thinking and the risk associated to it. But to Vorderbruggen, it was another form of service to the country.
"Both Adrianna and Heather are extraordinarily strong and very proud of their family. They wanted to make a difference," Hepner said.
Also killed in the attack:
Detective Joseph Lemm, 45, a New York police detective serving in the Air National Guard…Air Force Sgt. Peter Taub, son of Washington-area restaurateurs…Staff Sgt. Michael A. Cinco, 28, of Mercedes, Texas…Staff Sgt. Chester J. McBride, 30, of Statesboro, Georgia…Staff Sgt. Louis M. Bonacasa, 31, of Coram, New York.
Watch a CBS News report on the attack:
https://www.youtube.com/watch?v=Tms0905mGRc