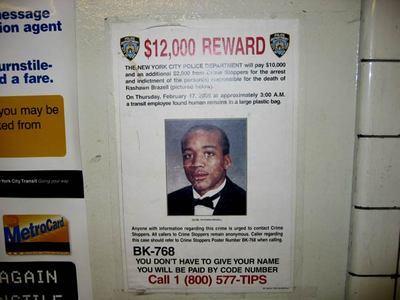 A man whose DNA has been linked to a cold case murder we've been following for 12 years — the killing of gay Brooklyn teen Rashawn Brazell, whose body was dismembered and dumped around New York City — was arraigned in Brooklyn Supreme Court.
Kwauhuru Govan, 38, who was already locked up on another slay rap involving a Brooklyn girl a year earlier, was arrested at 10 a.m. Wednesday at Rikers Island on a charge of second-degree murder for the slaying of 19-year-old Rashawn Brazell, sources said.
The severed limbs of Brazell, an aspiring website designer, were found on subway tracks Feb. 17, 2005 — three days after he disappeared — prompting fears at the time that there was a killer transit worker on the loose.
Brazell told his mother that he was going to look for a job when he left home and disappeared in February 2005, but police said he may have been going to meet someone else — a boyfriend, a date, or an online hook-up. It's still not clear where he went.
The NY Post adds:
For his arraignment in Brooklyn Supreme Court, Govan was dragged into the courtroom by officers while screaming, "They're framing me for murder! I can't even dissect a frog!"