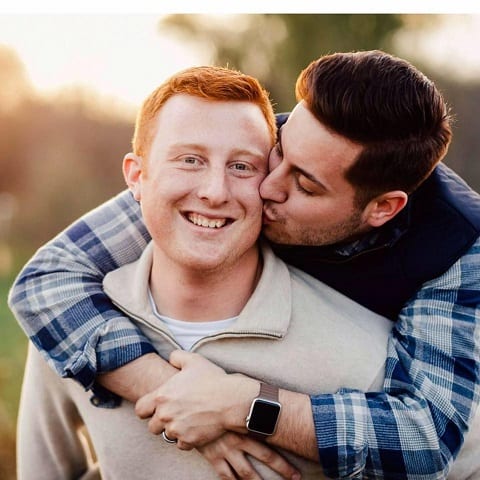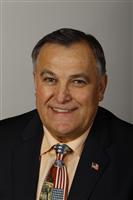 Iowa State Representative Ralph Watts (right) – locally known as Ralph Worst – has been taken to task for repeatedly using a gay slur in reference to Bryce Smith (above left), his opponent in the 2016 election.
During the public forum in Adel, Iowa on Saturday, Watts approached Smith's husband Kale (above right) and repeatedly referred to Bryce as "red rider."
Bryce Smith later shared video of the exchange on Facebook. The video may be found here and the exchange begins around the 1:09:30 mark.
The exchange began when Watts' daughter ReNae Watts Arnold challenged Smith for recording the meeting.
Provided by Bleeding Heartland, details of the exchange follow:
Watts: [Watts walks over to Kale Smith, leans forward onto desk.] By the way, where is red rider today?
Kale Smith: He is running his business right up the street.
Watts: He is? He complained that I didn't go to Urbandale. This forum is four blocks from his business.
Kale Smith: He's not an elected official. He's not an elected official.
Watts: But he's been chirping and sniping ever since the election.
Kale Smith: It's your duty as the elected official to go to public forums for your constituents.
Watts: Where is red rider?
Kale Smith: He's not an elected official. This isn't his–this is not his duty. This is your duty.
Watts: It wasn't his duty in Urbandale either.
Kale Smith: Yeah, he can attend.
Watts: Where is red rider?
Smith: OK.
Watts: OK. You got that? (points at Kale Smith)
Kale Smith: Yeah, you bet. Have fun.
Watts: All right.
In a Facebook post which has since been removed, Bryce Smith wrote:
After seeing, watching and hearing Mr. Watts during his forum, I am disturbed. I am at a loss for words really. A person who has held public office for nearly 14 years lowered himself to levels of name calling, bait and hook questioning and a total lack of facts and knowledge of what is going on in our state government and what is going on in our communities day in and day out. Mr. Watts said many false statements, could not supply evidence or citations when asked and lacked the humility to admit when he did not know something.
I want to send a message to Mr. Watts regarding his actions and words at his forum:
I will continue to be a thorn in your side. I will continue to hold you to extremely high standards as I take the integrity of our government very seriously. I will continue to make sure every Iowan knows what you are doing, when you are doing it and how you are doing it. This includes voting, sponsoring, legislation proposals, forums, and public appearances. No one likes a know-it-all and no one likes a person who thinks they are better than others because of their position of power.
I also want to say that how you treated my husband was totally unacceptable and very disrespectful, especially an elected official who is suppose to represent all people. The acts of intimidation, lack of respect, and the derogatory slur/name calling was live streamed and recorded. Be careful Mr. Watts, the people are watching and listening…
One Iowa Executive Director Daniel Hoffman-Zinnel issued a statement condemning Rep. Watts' repeated use of the term.
"Homophobic slurs should never be used, especially by an elected official," Hoffman-Zinnel said. "We must continue dialogue on inclusion and civility with an understanding of how slurs like this impact real Iowans. Respect is a non-partisan Iowa value, and leaders in our communities must model civil discourse. Bryce Smith deserves an apology from Rep. Watts."
On Monday, Watts denied that his use of the term "red rider" was meant as a gay slur:
"Red Ryder BB gun is the thing that falls in the category of a kid's first gun, and it's used to teach kids how to use a weapon and shows them responsibility and shows they're capable of using something more powerful," Watts said. "With some of the things that have happened, the constant sniping and constant obscure criticism shows me that he hasn't progressed past the Red Ryder stage… I hadn't heard about the slur until he brought it up. "
He added that he knows "several LGBT folks in my district, and they can live their lives and chose their lifestyle and that's fine with me. I don't really care. They don't throw it in my face at all," he added "and I don't raise anything with them."
Watch the video below.
(Ralph Watts image via Wikipedia. Bryce and Kale Smith image via Facebook)