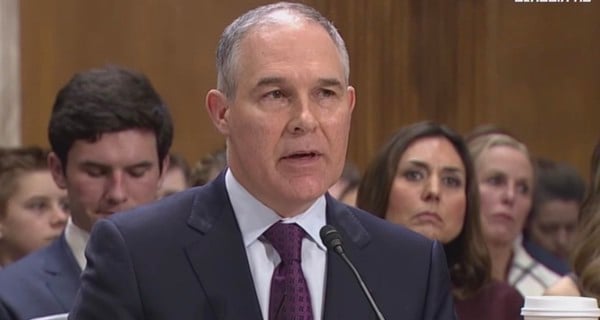 Senate Republicans again on Thursday suspended rules to advance Trump EPA pick, climate change denier Scott Pruitt, to the full Senate.
In a roll call vote, the committee's Republicans voted 11-0 to approve Pruitt's nomination and send it on to the full Senate despite the objections of Democrats, who had already boycotted a Wednesday session in a show of solidarity against a nominee who has repeatedly sued the EPA in recent years.
The committee's move comes a day after Republicans used similar tactics to advance the nominations of Trump's treasury nominee, Steven Mnuchin, and his selection for health and human services secretary, Rep. Tom Price (R-Ga.).
The procedural rules of the Senate committee allow for a change to or suspension of those rules "by vote of a majority of committee members at a business meeting if a quorum is present."
The National Wildlife Federation has asked the Senate to reject Pruitt because he does not believe in science:
"When Attorney General Pruitt was first nominated, the National Wildlife Federation was willing and eager to hear his vision for the EPA. We have a basic three-part test that we use to evaluate nominations: 1. Does the nominee support science-based decision-making? 2. Will the nominee uphold our nation's environmental laws? 3. Is the nominee willing to put the interest of the American people above those of special interests? Unfortunately, at yesterday's confirmation hearing the nominee made it crystal clear that he does not meet any of these tests. For these reasons, we must oppose his confirmation. Simply put, Mr. Pruitt cannot be pro-outdoors and anti-science.
"As a nationwide Federation comprised of millions of Republicans and millions of Democrats, we are proud of our history working with Administrations of both parties to fulfill government's sacred duty to conserve and steward America's wildlife, fish, healthy waters, clean air, and public lands as public trust resources for all — including for future generations — using the best available science. During previous Republican Administrations, we worked closely with President Nixon and Bill Ruckelshaus to create the EPA and we worked closely with Tennessee Senator Howard Baker, Maine Senator Ed Muskie, and Michigan Congressman John Dingell to develop and pass the Clean Air Act and Clean Water Act. We worked with President Reagan to confront the threats to the ozone layer and coastal resources, President George H.W. Bush to address acid rain and cross-state air pollution. We worked with President George W. Bush to better protect millions of acres of wetlands. A commitment to sound science was the foundation of each of these accomplishments.
"In contrast, Mr. Pruitt's record and policy positions represent a stark break with the Republican Party's conservation legacy. He has sought to undermine climate science and questioned whether mercury pollution was bad for public health. He has repeatedly used the power of his office to fight to overturn the water and air safeguards that protect our fish and wildlife, public health, natural resources, and climate. He sued to stop the EPA from reducing water pollution entering upstream tributaries and wetlands. He sued to stop rules to reduce toxic mercury pollution, oxides of nitrogen, and sulfur dioxide, and sued to block the Clean Power Plan. During yesterday's hearing, Mr. Pruitt did not say anything to suggest he would change course from this record to represent all Americans, rather than special interests. Because of this track record and the positions he stated in yesterday's hearing, his nomination is completely unprecedented in the agency's nearly 50 year history and must be rejected."
"It is clear Mr. Pruitt does not share America's cherished bipartisan conservation values and cannot effectively lead the EPA. We agree with former Republican EPA Administrators, including Bill Ruckelshaus, Bill Reilly, and Christie Todd Whitman, who have made it clear that Mr. Pruitt cannot lead the EPA without a strong respect for science. For the first time in our 80-year history, the National Wildlife Federation asks Senators from both parties to join us in opposing this nomination by voting no."