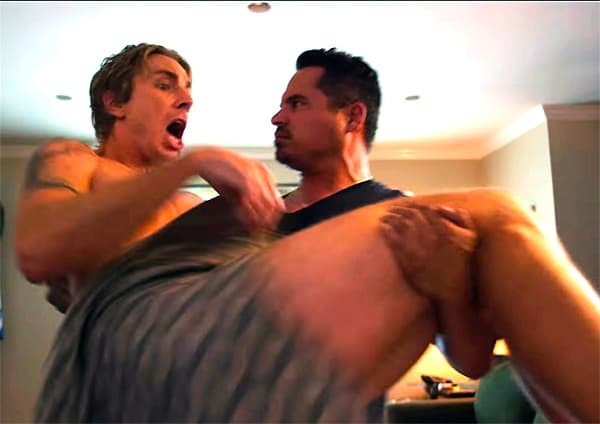 The reviews are in on Dax Shepard's film remake of the '70s-into-'80s kitschy cop show CHiPS which opened last week, and they have noted it is a throwback in more ways than one, reviving several "gay panic" tropes that are both dated and off-putting given contemporary sensibilities.
Entertainment website The A.V. Club gets right to it:
Frank "Ponch" Poncherello, the undercover FBI agent tasked with investigating corruption in the California Highway Patrol as portrayed by Michael Peña in the new action-comedy CHIPS, is heterosexual. Normally, that isn't something that would be deemed important enough to note in the opening paragraph of a review. But this movie . . . seems to think it's really, really important for audiences to know that Ponch is not a homosexual.
Entertainment and industry website The Wrap agrees:
Warner Bros.' reboot of the TV series "CHiPs" is the latest mainstream Hollywood film roiling with "gay panic," or scenes where straight characters are distressed by social or sexual situations involving LGBTQ people.
The buddy comedy — set amid the culture of a Southern California police force — seems to endlessly dredge up scenarios where men are confronted with the naked bodies, perceived masculinity and potential desire for other men.
Even if this is more about going for cheap laughs than overt targeting, the A.V. Club's Katie Rife calls it an "accidental treatise on fragile masculinity." Nevertheless, she points out "internalized homophobia is still homophobia, and this movie relies so heavily on tired gay panic tropes."
The Wrap's Matt Donnelly also notes this incidental if sophomoric approach:
This not to say that Shepard, who wrote and directed the feature film adaptation, means the LGBT community harm in his comedic approach — the script includes some interesting conversations about men and sexuality, though none remove the sting of cheap laughs at the expense of homosexuals.
Donnelly also notes the dubious inclusion of a gay character, even if it just adds another element of poking fun at gays:
There's another gay cop on the force, who introduces himself as "Gay Terry" when the group is getting to know Ponch. He's a terrible cop, who brings a fire extinguisher as a weapon when pulling over a speeding driver and spends the remainder of the film on crutches after a grueling shoot-out. He's also pridefully promiscuous, telling female officers he'd happily sleep with either Baker or Ponch as he objectifies the men in their tight uniforms.
While this can be in relatively good fun, such as with Reno 911's Lieutenant Dangle, who is treated sympathetically and is also in on the joke as a caricature, peppering a film with this constant sort of humor can be counterproductive. Donnelly explains:
It's precisely these kinds of one-dimensional, or outright exploitative, portraits of gay characters that has groups like GLAAD coming down hard on the big studios.
In GLAAD's 2015 Studio Responsibility Index, the watchdog group found only 17.5 percent of wide releases to be inclusive to the LGBT community.
"Leaving LGBT people out of the picture — or including them only as a punchline — keeps old prejudices alive and creates an unsafe environment, not only here in America, but around the world," GLAAD President Sarah Kate Ellis said of films like Sony's "Wedding Ringer" and "Get Hard" (another Warner Bros. release, which the group called a "nearly two-hour prison rape joke").
All of this contributes to the ongoing discussion about how Hollywood seems to mistreat, well, West Hollywood, in its portrayals and representation of LGBTQ actors and characters. While a film like CHIPS is clearly meant as a lighter comic offering rather than a thought-provoking drama, there is arguably considerable room for improvement in the general mindfulness behind the jokes and greater care could be taken in the sorts of comedic fodder that are chosen.
Watch the trailer: