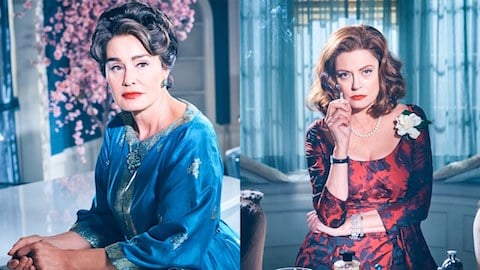 "Feuds are never about hate. Feuds are about pain." Or so says a fictitious take on actress Olivia de Havilland in Ryan Murphy's latest star-studded anthology, Feud: Bette and Joan. The series is a deliciously dramatized retelling of the epic Hollywood throwdown between screen legends Bette Davis and Joan Crawford. Lucky for us, their pain is our pleasure.
If you're a fan of any of Murphy's other shows (particularly American Horror Story and his recent brilliant examination of the O.J. Simpson trial), there's plenty to love here. Murphy and his team have created their own classic Hollywood Thunderdome, and it's dripping in style, glamour and world-weary women refusing to play nice.
Stars Jessica Lange, as Crawford, and Susan Sarandon, playing Davis while perpetually puffing on a cigarette, are off-the-charts, both carefully balancing camp and heart in some of the most compelling performances on TV. Lange's Crawford is cranked up to eleven, even in her quietest moments.
She gives us flashes of Mommie Dearest, but it's desperation, not lunacy that defines this portrayal. Sarandon is the perfect choice to bring Bette to life. Her attitude and bug-eyed intensity (to say nothing of her cutting one-liners) steal every scene she's in.
They're not alone. The series boasts a cast that would make most aspiring Academy Award-winners jealous. Alfred Molina tries desperately to be a ring master as the lionesses nip at his heels; the always wonderful Jackie Hoffman sneers her away around Crawford's estate as her stone-faced housekeeper Mamacita; Stanley Tucci is having an absolute ball as Jack Warner, savoring each bite of scenery like he's chomping on a fine Cuban cigar; and Judy Davis revels in stirring the pot as gossip columnist Hedda Hopper. These are some real heavy-hitters, and their strong performances anchor what could have been a cartoonish mess (not unlike how Crawford's and Davis' talents legitimized What Ever Happened To Baby Jane?).
It's not all good news, though. In telling the story of Crawford's and Davis' legendary conflict, Murphy and his team clearly have a message about the way Hollywood treats women. We know this because Feud reminds of us it constantly, not just in blunt-force dialogue, but also in an utterly unnecessary framing device featuring actresses de Havilland (Catherine Zeta-Jones) and Joan Blondell (Kathy Bates) describing the events we're shown while being interviewed for some documentary in 1978. It's the weakest element here (though through no fault of Zeta-Jones or Bates).
It's a small complaint. Last night's premiere episode set the stage for a knock-down, drag-out battle of the bitches that we can't wait to watch unfold. Let's have some fun with a little recap and talk all about it in the comments.
It all starts with that amazing opening title sequence: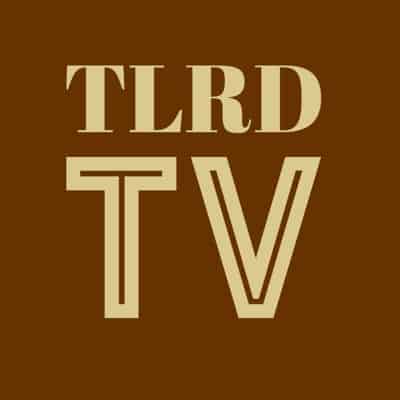 Our story begins with Joan Crawford dealing with her faded stardom. She's at the 1961 Golden Globes watching Marilyn Monroe win and drunkenly bemoaning Monroe's brand of "vulgarity." The types of women's pictures that made her career have fallen out of fashion, and the demand for actresses of her age is practically non-existent. The last part she was offered was Elvis' grandmother. If she wants more work, she's going to have to make her own opportunities.
With the help of her trusted housekeeper Mamacita, Crawford seeks stories with female leads. They're all "ingenues, mothers or gorgons." All except What Ever Happened To Baby Jane?.
She sends the paperback and a cooler of Pepsi (she's the brand ambassador, after all) to her former collaborator, director Robert Aldrich. He's tired of working on swords and sandals flicks, and this horror-thriller with a small cast and simple set is an intriguing change of pace. Plus, he's not being offered a ton of other work. He meets with Crawford and agrees to join the project. She's got the perfect co-star in mind.
https://www.youtube.com/watch?v=Jo-1yiD_td0
Meanwhile, Bette Davis is doing theatre in New York. Crawford drops in, and their seething hatred is palpable from the start. Davis calls Crawford only by her birthname, Lucille, and she's immediately suspicious of Joan's sudden interest in collaboration. Crawford makes the case that separately they may be old news, but the two of them together would be an event. She even offers Davis the title role. "The lead?" Davis asks. "You can call it that," Crawford responds.
Now that the two stars are on board, Aldrich starts shopping the project to the studios. One wants to recast younger actresses. Another wants to rewrite the script from the perspective of the sexy neighbor girl. Initially, Jack Warner at Warner Bros. balks at the idea of working with either woman again. He knows the extent of Crawford's demands from previous projects, and Davis? She brought down the whole studio system when she sued him back in the day. He's got some choice words to describe her, four-letter ones I've never seen fly like this on basic cable. But money talks, and once Aldrich offers to pay him first, he's in.
Boxers have weigh-ins, but Hollywood heavyweights have contract signings. Davis and Crawford pose for the press, but their rivalry simmers beneath the photo-ready smiles. They both go for the chair on the left (earning the victor top-billing in the photo caption). Even though Davis snags the seat, Crawford stands to her left, hovering over her and peeping at her contract. That's where Crawford sees Davis is getting more money than she is, sending Joan into a "No more wire hangers!" tizzy that Aldrich needs to contain. It's the first of many flare-ups between the co-stars he'll have to mediate, and they haven't even stepped on set yet.
Before filming begins, Joan rips Bette to her lover. We learn that Bette allegedly made a pass at one of Joan's boyfriends, and Joan married him out spite. She actually blames her for one of her failed marriages.
When they do arrive on the lot, Crawford attempts to set the tone by winning over crew members with gifts for all and a Pepsi machine to boot. We're tricked into thinking maybe Bette will take the high road when she appears in Joan's dressing room before the cameras roll to tell her she has the capability to be good, but then she undercuts Crawford's confidence with a comment about her lipstick and shoulder pads.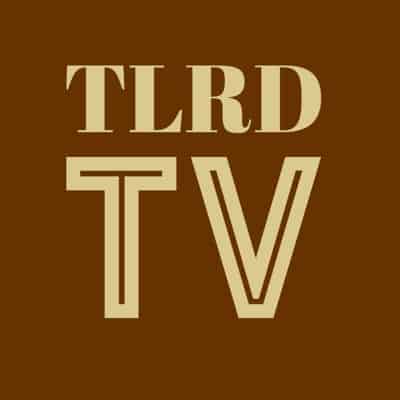 Joan nails her first scene, but it's Bette that steals the spotlight — literally — when she marches onto set in her iconic, deranged Baby Jane makeup. Crawford is calculated, but Davis is wildly inventive, and she's outshining Crawford before she even steps in front of the camera. As they watch the dailies later, Joan frets about her lighting, while Davis moves herself to tears with a particularly pained performance. Crawford is a great star, but Davis is a great actress.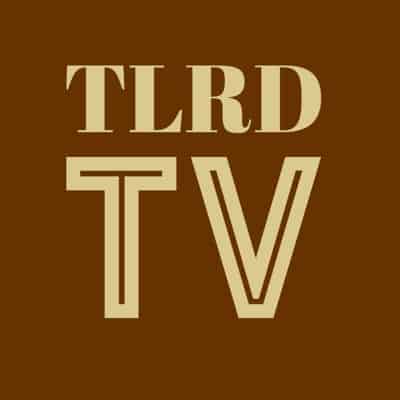 Gossip-columnist Hedda Hopper invites the ladies over for dinner, hoping to see them rip each other to shreds, but they're no fools. They maintain such a friendly facade, Hedda nearly falls asleep in her aspic.
The episode ends with a voiceover from Hopper, reading from a real-life column she wrote: "Bette Davis and Joan Crawford, stars of equal magnitude who ruled in motion pictures during the fabulous '30s, never got to know one another. Now in the Indian summer of their careers, they're about to."
And so are we.
Best Barbs:
"I've got great tits too, but I don't throw them in everyone's face." — Joan Crawford on Marilyn Monroe
"Lucille, what the hell brings you to the theatre?" — Bette Davis
"I can't beleive you didn't get better reviews." — Joan Crawford on Bette's theatre work
"Her unemployment is my long-simmering revenge." — Jack Warner on Bette Davis
"Usually I play the bitch, but this time I can sit back and watch Bette do it." — Joan Crawford
"Lose the shoulder pads … and cut back on the lipstick. You're playing a recluse who hasn't seen the sun for 20 years, for Christ's sake." — Bette Davis on Joan's Baby Jane look
"We're skipping dessert, I'm already getting diabetes." — Hedda Hopper
Round 1 Goes To: Joan Crawford. She was determined to get herself back to work, and she did everything she needed to make it happen. As she reminds Aldrich after the contract dispute, "It was my idea to throw this party in the first place."
What did you think of the premiere episode of Feud: Bette and Joan?