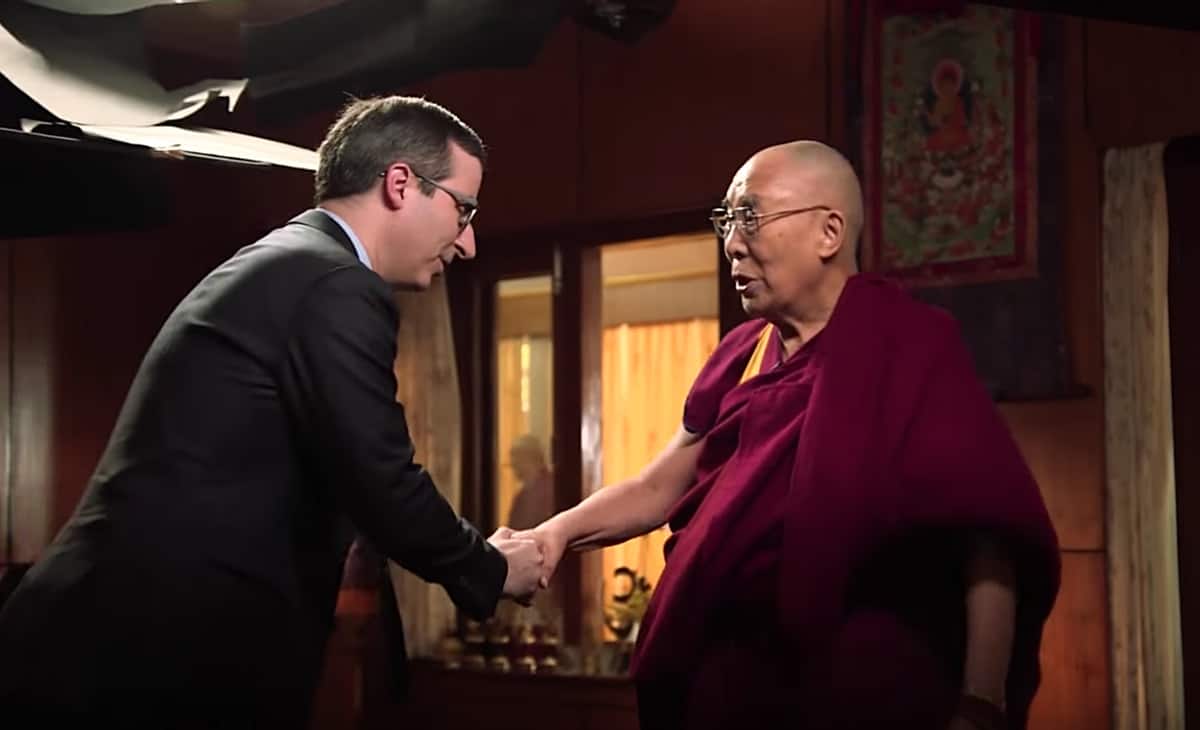 John Oliver brought the Dalai Lama, also known in Oliver's mind as "the original woke bae," to Last Week Tonight in a rare interview following a segment about China's occupation of Tibet.
First Oliver sought to illustrate China's oppressive relationship with Tibet, which it invaded in 1950," explaining that "China is unlikely to loosen its grip on the region — Tibet has incredibly rich resources."
He then turned to the Dalai Lama, described as "sort of a cross between a Pope and President or Pope-sident, if you will, but you shouldn't, so please don't."
Continued Oliver: "Here is where this story gets absolutely amazing. Broadly speaking, when the Dalai Lama dies, he reincarnates as a child somewhere on Earth. And traditionally, a key person in the process of finding him is someone called the Panchen Lama. And when the Panchen Lama dies, the Dalai Lama plays a similar role in finding him…They're basically playing a Buddhist version of hide-and-seek."
But the 6-year-old Panchen Lama was kidnapped by China 20 years ago and he hasn't been seen since. China made its own Panchen Lama to discredit the Dalai Lama's choice and to be able to pick the next Dalai Lama.
Added Oliver: "There is really only one person who can fill you in on what is happening inside the Dalai Lama's head, but he lives in India, and that is a 14-hour flight away — and the reason I know that is I went to speak with the Dalai Lama in India."
Watch: