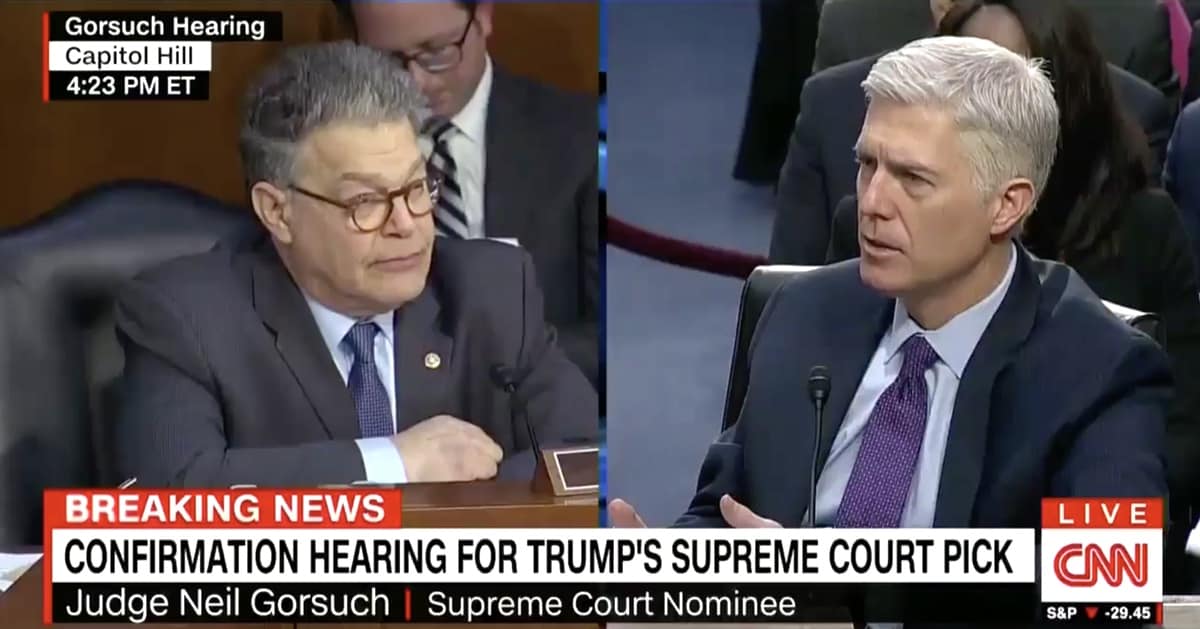 Supreme Court nominee Neil Gorsuch frustrated Senator Al Franken this afternoon when Franken asked him about his views on marriage equality.
Franken brought up Gorsuch's close friend Ken Mehlman, who as RNC Chairman in 2004 was a vocal opponent of same-sex marriage and worked to pass bans on it (and succeeded) in 11 states. Franken noted that Mehlman has since come out as gay and become an advocate for marriage equality.
Franken asked Gorsuch if his views on same-sex marriage have changed "if at all" since the 2004 election.
Gorsuch said that it's "absolutely settled law" but added "there is ongoing litigation about its impact and its application right now" and said he could not share his personal views.
As on many other topics, Gorsuch mostly stonewalled until Franken got frustrated and moved on.
Watch:
Judge Gorsuch refuses to give his personal opinion on marriage equality, but tells @alfranken it is "absolutely settled law" pic.twitter.com/jhIwpXarFd

— David Mack (@davidmackau) March 21, 2017
Earlier, Gorsuch was asked by Senator Dick Durbin (D-IL) about the anti-gay views of his mentor at Oxford.
Gorsuch said one only need to look at his record to see his views.
Asked Durbin: "What about LGBTQ individuals?"
Gorsuch snapped back: "What about them? They're people."
"Senator, I've tried to treat each case and each person as a person, Gorsuch added, angrily, "not a 'this kind of person,' not a 'that kind of person' — a person. Equal justice under law. It is a radical promise in the history of mankind."
When asked if that refers to sexual orientation,  Gorsuch snapped, "Senator, the Supreme Court of the United States has held that single-sex marriage is protected by the Constitution."
Watch:
.@SenatorDurbin asks about LGBTQ rights. #Gorsuchhearing pic.twitter.com/YKx5JAdP2z

— CSPAN (@cspan) March 21, 2017