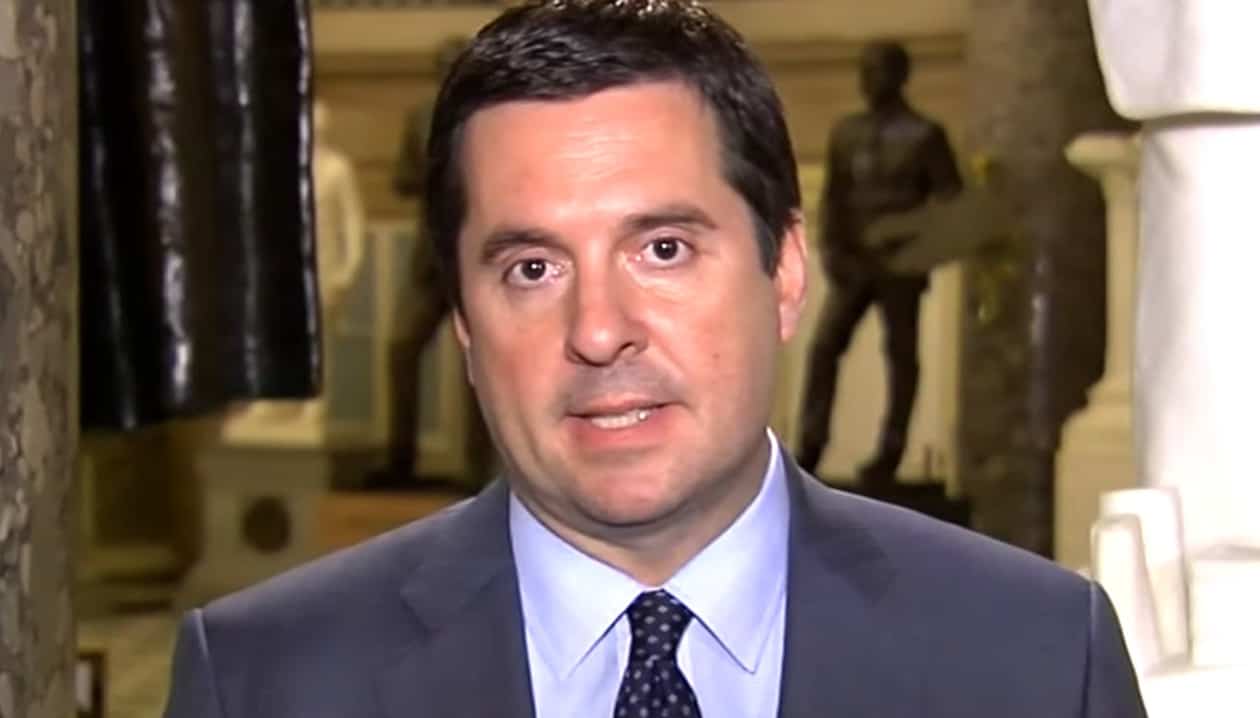 All House Intelligence Committee meetings have been canceled for the week as pressure mounts for the committee chair, Rep. Devin Nunes, to step down for withholding information from the committee and instead sharing that information with the subject of their investigation, Donald Trump.
The decision to scrap this week's meetings shows that the panel is facing serious turmoil and questions about whether it can proceed. Nunes scrapped a Tuesday public hearing on Russia to hold a private briefing with FBI
Director James Comey and National Security Agency Director Mike Rogers, prompting outcry from Democrats who wanted the issue of the Trump campaign's alleged ties to the Kremlin to remain in public view.
But Comey and Rogers opted not to brief the panel amid the furor within the committee over how to proceed with its investigation.
The full committee typically meets at least twice a week and it's uncertain if those meetings will be rescheduled.
The ranking Democrat on the committee, yesterday called on Nunes to recuse himself from involvement in the investigation:
After much consideration I believe Chairman should recuse himself from involvement in investigation/oversight of Trump campaign & transition pic.twitter.com/jpfA1x80Si

— Adam Schiff (@RepAdamSchiff) March 27, 2017
Rep. Jackie Speier, who sits on the Committee said she doesn't trust Nunes and believes there is an effort by Donald Trump to shut the Committee down.
Said Speier: "I mean, I think he is a very nice man. I think he is frankly over his head. I think he used very poor judgment and I think he has tainted the committee."
Watch a clip:
Democratic Intelligence Committee member @RepSpeier on Republican Chairman @DevinNunes: "I don't trust him" https://t.co/WCbA9XMNNb

— New Day (@NewDay) March 28, 2017
Several other lawmakers have said that Nunes should step down, including House Minority Leader Nancy Pelosi:
"Speaker [Paul] Ryan must insist that Chairman Nunes at least recuse himself from the Trump-Russia investigation immediately," she said. "That leadership is long overdue."
Rep. Eric Swalwell (D-Calif.), a member of the House Intelligence Committee, said Nunes has damaged the panel's ability to fairly conduct a probe of Russia's election meddling last year.
"Chairman Nunes should no longer be anywhere near his investigation, let alone leading it," he said in a statement.
"For the sake of our duty to independently find the truth, and for the sake of his ability to chair the committee in its other important duties, he should recuse himself from our committee's Russia investigation."
Rep. Ted Lieu (D-Calif.) went a step further Monday, suggesting Nunes should immediately relinquish his committee chairmanship.
"If Chairman Nunes understood the Constitution and our separation of powers, he would resign his Intel Chairmanship immediately," he tweeted alongside the hashtag #RussiaGate.
And Chuck Schumer said this on Monday:
.@SenSchumer: "If @SpeakerRyan wants the House to have a credible investigation he needs to replace Chairman Nunes." pic.twitter.com/UL4ihema83

— CSPAN (@cspan) March 27, 2017